Can Writing Help Depression Sufferers?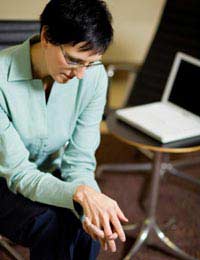 According to the Mental Health Foundation, depression is one of the most common mental health disorders in the UK. And the World Health Organisation (WHO) noted in 2001 that an approximate 450 million individuals around the globe suffer from mental health problems.
With such statistics, it seems apparent that many people are (or at some point will be) seeking some kind of solution to their depressed states. Beyond therapy and medications, significant forms of relief can come from the simple act of writing.
Of course, this shouldn't come as too much of a surprise; plenty of notable writers such as the prolific author Ernest Hemingway and the twentieth century poet Sylvia Plath staved off suicide and major depression - at least for a time - by jotting down their thoughts, feelings and ideas.
If you're prone to depression or simply periodic episodes of extreme sadness, you may find solace in a composition book. Though not a substitute for therapy, writing can help explore the causes and depth of your emotional and physical burden.
Some Ideas To Get You Started are Listed Below
Penning fiction may act as a sort of depression "salve". Writing about experiences that mimic your own can help you analyse what you're experiencing. Choose rich vocabulary words that resonate with you on a very deep level. If you're more given to analogies, create metaphors for your sadness; they can be thinly veiled ("the sky was grey and brooding when I awoke") or more complicated ("the leaf struggled to hold onto the windshield wiper through the heavy rainstorm.")
For some authors, nonfiction is a terrific way to tackle (or at least address) depressed thoughts. Many men and women (and young people, too) keep diaries or journals. These books help sort out dilemmas and emotions privately. Over time, such writings may assist you in pinpointing the signs that a major depression is ahead; that way, you can potentially head it off. And if you decide to "go public" with your depression at some point in time, you may find that plenty of editors are open to publishing memoirs of this nature.
Should you be a freelance writer working on assignments such as articles, you may not be able to specifically discuss your depression through your pieces. However, that doesn't mean that your writing will be any less influential. Sometimes, having a task or responsibility (i.e. working toward a deadline) can snap an individual out of the depths of a mild depression, giving him or her a positive focus.
A long-term project for overcoming depression may come in the form of authoring, ghostwriting and/or editing novels. Again, the topic of the book needn't have anything to do with sadness; simply giving life to characters and controlling their situations may help a writer get a better understanding of his or her own mental health.
Finally, many writers are turning to blogs or online social networking sites to come to terms with their feelings of depression. The only caveat to this form of self-therapy is that anything written on the World Wide Web is essentially public. Therefore, for someone who is not ready to be open about his or her disorder, it may be wise to blog or write under a pseudonym.
* NOTE: If you are feeling overwhelmed or suicidal, please turn to a mental health professional immediately. Depression should never be ignored and writing should be used in conjunction with a physician or mental health provider approved plan.
You might also like...