Keeping Dialogue Fresh and Realistic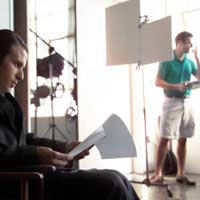 For many creative writers inventing dialogue that flows realistically is a huge challenge. Not only do their characters' words have to move the storyline along; they also have to sound persuasive and fluid to readers. After all, conversations which strain the boundaries of credibility immediately detract from a play or novel.
Therefore, if you want to take your dialogue from so-so to stellar, it will benefit you to employ some (or all) of these seven tried-and-true dialogue writing techniques:
No 1: Write the Way People Talk
For your dialogue to have its intended impact, it must sound like something that would really be uttered.
For instance, the phrase: "Hello. I am going to go to the shopping mall," seems stilted and affected, hardly realistic. After all, most people would say something more casual.
Therefore, a better option would be to tone your wording down, as in: "Hey, I'm going to the mall" or "Hi! I'm gonna go shopping."
No 2: Don't Let Grammar Guide You
When it comes to dialogue, never be afraid to play around with grammar, especially when writing for characters who may not have a formal education or who are chatting in a relaxed setting.
Men and women regularly speak in run-on sentences and end phrases with prepositions. So forget what you learned in English 101 when creating written exchanges.
No 3: Stay in Character
Always make sure that whatever your character says fits his or her background.
As an example, if he or she can barely read or write, any words he or she utters should reflect that fact. This is the point where any character development you've completed (such as generating an in-depth profile) will become particularly useful.
No 4: Use Colloquialisms and Dialects
People from different areas have different ways of speaking and your dialogue should reflect those dialects and subtle nuances.
If your characters come from a different culture than you, listen to tapes of people speaking that native tongue in order to get a better understanding of what their language sounds like.
No 5: Be Historically Accurate
Shakespeare didn't muse about blogs and computers didn't enter any of Wordsworth's poems.
Similarly, your story's dialogue should be appropriate from an historic standpoint. If you're not certain which words were available during the era in which your work is set, grab a dictionary; typically, the earliest known dates of usage or origin are noted.
No 6: Read It Aloud
One of the best ways to ensure that your dialogue sounds genuine is to literally read it out loud yourself or with a friend. (In fact, some playwrights gather actors together to read scripts before they are submitted to publishers and agents.)
This method will allow you to hear exactly what dialogue works… and more importantly, what trips up the tongue or sounds awkward.
No 7: Be Audience Appropriate
Finally, remember that even if your dialogue sounds great when read by a gal in her early 20s, that fact won't be helpful if you're trying to entertain or educate a 4-year-old boy.
Keep your readers in mind as you put together dialogue; if they cannot understand it, the point of your piece will be lost. And if you're having trouble determining the audience appropriateness of your works, ask someone in the same age category as your intended customers to look over your writings.
By following these seven simple steps, you'll soon be on your way to creating fresh dialogue that is memorable for all the right reasons.
You might also like...