Writing for Companies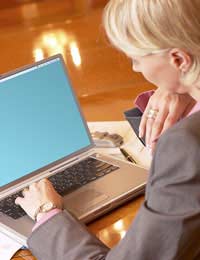 Believe it or not, creative writing and the corporate world go hand-in-hand, especially when it comes to sales, advertising and marketing. Maybe you don't think of yourself as a business person right now, but selling your literary wares to companies can mean lucrative, steady work.
Website Content
Most organisations have a web presence; consequently, they need information to continuously fill and update their pages. Certainly, some of that text has to be cut-and-dry, but the rest of it is often geared at entertaining while educating the site's visitors.
As a creative author, you could be the person who brings to life even historically-mundane topics. As a result of your imaginative infusions, "surfers" who land at the company's website have a reason to browse through the offerings, rather than simply exiting within a few seconds.
As a website content producer, you may not be paid much per page; however, depending upon your speed, accuracy and ability, you could be able to quickly build a client base, meaning long-term fiscal solvency as a writer.
Corporate Blogging
Blogs are all the rage and companies are jumping on the bandwagon in the form of corporate blogs.
Typically, such blogs are very narrowly defined in terms of focus; for instance, a health food shop may blog about new organic products or homespun remedies. Similarly, an insurance broker may fill his or her blog with tips and hints to lower premiums over time.
Corporate blogs, unlike their personal counterparts, are meant as "sales" devices; hence, they usually have a somewhat folksy or conversational tone. Because many business professionals find it difficult to assume such a laid-back attitude, they hire "ghostwriters" (aka, YOU) to blog for them under their company's name.
Bloggers are generally paid by the "post" and may also garner bonuses depending on how well they boost traffic to the site via the blog. Again, you won't get rich right away, but if you are able to spice up a blasé blog, you'll likely become a sought after "ghost blogger".
Advertising Copy
Organisations need to advertise their products and services, but may not have the marketing or writing know-how to entice buyers. If you have a knack for creative copywriting, you could snag a part- or full-time job (either onsite or from the comfort of your residence) constructing eye-catching, memorable ads.
Even if you don't have a background in sales or advertising, you can still try your hand at writing copy for smaller firms that want slogans or brochures. Usually, tinier companies don't have the resources to outsource their advertising to corporations; thus, they are sometimes open to working with freelance creative copy designers.
Your best bet is to find someone who already works in this field so he or she can mentor you as you start your career. From there, the sky, as they say, is the limit! Just make sure you craft your advertising pieces carefully; marketing is a sticky game and can't be mastered overnight. Give yourself time to get some serious knowledge or you'll find yourself frustrated by the process… and your clients won't be pleased with the results.
Corporate e-Newsletters
Many businesses have diligently gathered the emails of current and prospective customers; ironically, though, they don't maximise those addresses to their full potential.
As a creative author, you might be in a position to help a company better utilise these email addresses by crafting monthly, bi-monthly, or seasonal newsletters on behalf of the business. Such e-newsletters are usually very succinct, giving the reader information on new products or services as well as coupons or special offers.
Writers with good imaginations are desperately needed for this kind of copy, as e-newsletters need to appeal to a wide segment of readers straight away. (After all, "delete" is an easy button to push!)
Though finding these jobs might take a little digging and networking, be assured that they are out there for those willing to roll up their sleeves and tackle new frontiers. Good luck with all your writing and don't be afraid to try something new!
You might also like...
Website content was a growing field until Google altered their algorithm and suddenly it was pointless, as most results weren't even showing. These days there has to be very careful attention to content if it's to be of any use. For that reason most companies have abandoned adding new content in the form of articles – it's simply not worthwhile for them.
Chris
- 27-Sep-12 @ 1:57 PM