Improving Your Poetry Writing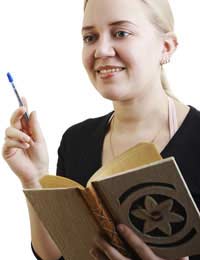 From the time we are very young, we are typically exposed to the world of poetry. Whether through juvenile-geared songs (which are really just poems set to music) or simple silly nursery rhymes, poems play a large part of how we learn language and the art of communicating.
Unfortunately, our education on poetry all-too-often ends with that initial introduction. Certainly, we might be expected as students or young adults to read famous poets' works in school or university, most individuals aren't ever encouraged to delve into poetry as an art form.
This is Highly Regrettable
If you want to become a better creative writer, you can absolutely begin by re-introducing yourself to poetry as a means of broadening your literary expertise. Even if you have no intentions of writing verse yourself, poetry can be an excellent way for you to better your vocabulary, find new ways of seeing everyday objects, help describe difficult or complex emotions or situations and engage readers with novel metaphors.
Best of all, it doesn't matter what kind of poetry you turn to. It can be formal, fun, fantastical… It can be short, lengthy, even epic… It can tell a story, solve a problem, ask a riddle, state an opinion… It can make you sigh, laugh, cry, yell, think … In essence, a well-written poem can do or be almost anything, which is what makes poetry so exciting and unpredictable.
This isn't to suggest, of course, that composing a fabulous poem is somehow easy. Mastering poetry takes time and effort. And, strangely enough, it occasionally seems as if the shortest poems (such as the haiku) are more difficult to create than are the longer ones (like an epic story or play). Of course, this observation is debatable, but nonetheless intriguing.
There are many types of poems and verse structures – far too many for the purposes of this article, in fact. However, if you're interested in trying a few, just for fun or to exercise your brain, an easy beginning point is the common rhyming scheme of A, B, A, B.
For instance, the following composition utilises the aforementioned structure:
I saw a bird (A)
Up in a tree; (B)
He said no word (A)
But winked at me. (B)
You could also try playing around with a variety of rhyming schemes, such as A,B,C,B:
I saw a bird (A)
Up in a tree; (B)
His plume was red. (C)
He winked at me. (D)
Or A, A, B, B:
I saw a bird (A)
Who said no word (A)
But bowed at me (B)
Courteously. (B)
You can also try writing poems without any sort of rhyme. Some people have been led to believe that a poem that doesn't rhyme or have a certain intrinsic "rhythm" cannot be poetry. This assumption is false; poetry can read like a train of thought or a freeform combination of words and images, as in:
A pretty satellite
The new moon
Or:
Street cleaner
Street clothes
Street sign
Streetwise
In the end, there is no "right or wrong" method of composing a poem that contains rhymes.
Yes, there are certain "rules" to know and recognise if you intend to publish, but numerous masters of poetry have bucked traditional trends and created their own signature techniques. (Consider ee cummings, the poet who used no capitalisation and little punctuation but who is wide applauded for his innovation and acumen). Use your imagination.
If you're writing for fun (or just to become better), remember that the professionalism of your poems shouldn't be your overriding goal. Use them to help you think in a different way, and have fun trying something new.
You might also like...
Hybrid - Your Question:
I'm sure with this info I can step up in my poetry. thanks
---
Our Response:
We are glad this has helped.
Scribblepad
- 21-Sep-17 @ 1:46 PM
I'm sure with this info I can step up in my poetry. thanks
Hybrid
- 20-Sep-17 @ 4:26 PM
I just want to say thank you for your article.It was really helpful. It has encouraged me to resume writing poems. Bless you!
Hinja
- 30-May-17 @ 11:09 AM