Developing a Science Fiction 'World' that Makes Sense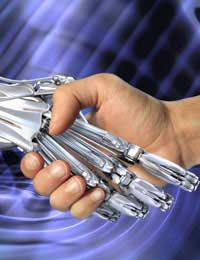 As a practice science fiction may seem wildly imaginative and somewhat "freeform", but truly excellent examples of this genre show strong discipline and writing techniques on the part of the authors.
If you're interested in furthering your acumen in this area, read through the following notes on how you can create a science fiction world that resonates with believability and vividness.
Be Consistent
Whether you're writing a story about a medieval dragon or a futuristic cyborg, be certain that your piece smacks of consistency. If a character suddenly exhibits abilities or reactions that make no sense given what you've told your readers about him or her (or it) thus far, the veil of realism will come crashing down.
To help you aim for a high level of consistency, you may want to develop "profiles" for each of your characters or "backgrounds" for situations, civilisations, and family groups. That way, you can be sure your writings are authentic within the fictional world you've established.
Have a Point
Many unseasoned authors believe that a fantastical universe filled with faries, demons, ghouls, aliens, or robots will "sell" itself; however, without a focus, their stories and plays simply fall flat.
Every written work, even one set in a land that never existed (or has yet to be discovered), has to have a point; otherwise, readers will have a difficult time becoming engaged in the work. Of course, you don't want to try to have too many stories or developments occurring in one piece; save some situations for the next installment… it's a good excuse for a sequel or prequel!
Include Conflict
In order to reach into the minds and hearts of your audience, you'll likely want to include conflict of some nature into your science fiction piece. This can take the shape of inner conflict, societal conflict, familial conflict, or interpersonal conflict, among other types.
Setting up situations that include disputes will create natural tension, a good ingredient for any creative work. Tension is something most readers can understand and to which they can relate; thus, they will find themselves "taking sides" or experiencing the conflict with the characters.
Remember Your Audience
Are you writing a science fiction novel for adults? A short science fiction story for teens? Or a science fiction pop-up book for children? Depending upon your audience, you'll need to employ various tactics.
For example, science fiction written for those over age 18 may include "adult situations", including romance, despair, and violence. However, a children's book would likely steer clear of those controversial elements and focus instead on magic, wonder, and fanciful situations.By keeping your readers in mind, you'll be able to adjust your plot and tone for the best possible fit and reaction.
Be Bold
Finally, to become a science fiction author, it's critical to allow yourself to be bold. Create something that no agent, publisher, or reader has ever seen (or conceived of) before. Don't try to mimic the success of another science fiction writer (though you can use him or her as an inspiration.) Be yourself and develop your own style.
By enabling your "true voice" to come out, you'll have a better chance of publication; you'll also produce a much stronger science fiction work.
You might also like...