Anthropomorphism: The Ancient Storytelling Tool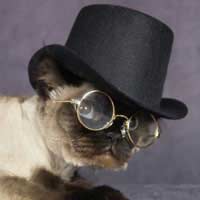 Talking birds... Cats wearing ball gowns...Horses who marry and raise a family...
These are all prime examples of anthropomorphism, a creative writing tool that has been used by writers for millennia with great success.
In a nutshell, anthropomorphism is the act of projecting human behaviours, actions, and attitudes on animals and other beings. People actually do this all the time, stating that a dog at the Kennel Club "Best in Breed" Show looked "upset" when he lost or "snubbed" the other dogs when she won. It's a common way for us to understand the world around us, and it's a technique that you can use as a creative author.
Here, we'll explore a few of the ways that anthropomorphism has been and can be used to bring characters and ideas to life.
The Moral of the Story Is…
What child hasn't encountered at least one story by Aesop, a master of anthropomorphic storytelling? By imbuing birds, beasts, and bugs with human foibles, Aesop was able to effectively help his readers and listeners recognise their own shortcomings in a humorous, "safe" way.
Though you may not want to create moral snippets of the type that Aesop penned, you might still find it wise to choose a furry friend to make a point, even if you're taking a very serious look into a political issue. That's how Animal Farm, a hard-hitting, but incredibly readable, novel examining communism came into being. And it's still being used to make a point decades after its release.
Critters Make Fun Characters
Let's face it - animals, sea beings, and soaring birds are just plain interesting to watch and discuss. In fact, it's difficult not to think of them in "human" terms.
The next time you're looking for inspiration for a novel, poem, short story, play, or even song, you need only turn to nature for characters that will resonate with audiences. That's what Walt Disney did, and the Disney/Pixar machine is still producing hugely successful box office smashes thanks to its embracing of all things anthropomorphic from fish to ants to autos.
Readers Can Relate to Anthropomorphism
Even if your audience doesn't literally recognise that you're using anthropomorphism, they'll still likely be attracted to the technique. After all, from the time we're young, we're read stories and nursery rhymes whose main characters are not human beings (case in point: Mother Goose, Henny Penny, and Humpty Dumpty.)
Thus, if you can effectively spin a tale around an anthropomorphic being, you may be able to capture the attention of readers or listeners faster than if you try to say the same thing using human characters (or no characters at all).
Without a doubt, the world is full of anthropomorphism - one need only turn to the comics section of the local paper to find an abundance of examples. So the next time you're hankering for a fun challenge or want to write about something different, consider bringing to life a teapot, leaf, or cloud. Even if it's just as a personal exercise, it will be worth the effort… and who knows? You may just wind up creating the world's next beloved personality.
You might also like...