Battling Writer's Block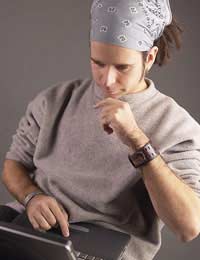 Symptoms: A foggy head. Uninspired writings. The inability to string together two simple sentences.
Diagnosis: Writer's block.
Prognosis: Optimistic but requiring more than a smidgen of patience, open-mindedness and persistence to defeat.
When you set out to become a creative writer, whether professionally or merely as a recreational activity, you're bound to encounter some periods that are less enjoyable and productive than others. For whatever reason, your usually inventive and fertile muse has decided to withdraw, and you're left wondering if you'll ever be excited about putting pen to paper (or fingers to keyboard) again.
At times like these, you can do one of two things – throw in the towel and declare, "I'll never be a writer!" or, more appropriately, tackle your writer's block using tried and true techniques for overcoming this widespread writer's dilemma.
Below, we've compiled four favourite methods for unlocking the stories and imaginative musings that are reluctant to leave your mind and become the foundation of your next creative work(s).
Writer's Block Tip #1: Avoid Catastrophic Thinking
Emphatically and dramatically announcing, "I feel terrible! I can't stand this! I'm doomed!" might feel good once in while, but it won't help you break out of your writer's block. Instead, it's critical to recognise your mental blockage for what it is – a temporary, albeit annoying, condition.
If you tell yourself that you will eventually be writing freely again, you'll be less likely to sink into a depression or prolong your writer's block by allowing it to stress you to the point of self-induced inaction.
Writer's Block Tip #2: Take a Break
Unless you have an editor literally standing over you, tapping his or her foot impatiently as you try to compose a story, allow yourself to take some time away from your creative writings. Get out and walk around (exercise can boost imagination), enjoy a chat with a best buddy, or simply relax a little away from your words.
By removing the reminder of your writer's block (i.e., your half-written creations), you'll be less likely to waste precious time and energy repeatedly poring over them, ultimately unable to decide what your next move will be.
Writer's Block Tip #3: Do Something for Someone Else
One of the fastest ways to take your mind off your inability to write is to switch your brain from an inward to an outward focus. Get involved in a community organisation or help the neighbourhood kids initiate a rousing game of football. Offer to do the grocery shopping for an elderly neighbour or family member or volunteer at an animal rescue shelter.
When you make life a little easier for someone else, you'll be able to return to your writings with a renewed source of inspiration as a direct result of your altruism.
Writer's Block Tip #4: Work on Several Writings at Once
If you are an author who naturally craves variety, you may be able to avoid long episodes of writer's block by working on many pieces at the same time. That way, when you become stumped on how to continue with one, you can simply move on to another. Doing so will provide you with an assortment and range of creative poems, plays, short stories, novels, or movie scripts on which to concentrate.
Above all else, remind yourself that writer's block is a natural circumstance. Additionally, know that the more often you write, the more confident you'll become, invaluable as you attempt to overcome any transitory mental impasses.
You might also like...