What Type of Writing Suits You Best?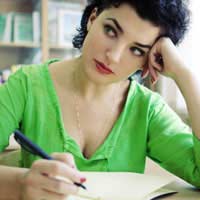 You're sitting at your computer, staring at a blank document. "What kind of writer am I?" you say aloud. Nothing comes to mind. You sigh.
It's something every writer faces now and then: An Identity Crisis. (Or a writer's identity crisis, anyway!)
That's why we put together this quick quiz to help you decide what type of writing suits you best. The goal is to determine your preferred type of writing so you can stop wondering what to write and get started on your next novel, biography or poem!
Answer this 5-point questionnaire and then evaluate your responses for a prompt answer to the question "What should I write?"
1. When you think about writing something, what type of stories/ideas usually come to mind?
a. I tend to think about writing about things that happen in life, things that are realistic.
b. I tend to think about writing about things that could happen. I'm definitely a fantasy person!
c. I tend to think about writing about concepts and ideas. The more abstract, the better.
d. I tend to think about writing about relationships between people. The deeper the relationship, the more eager I am to write!
2. What kinds of items do you like to read?
a. I read a lot of newspapers and real-time items online.
b. Definitely books and stories set in the future or in an alternate world!
c. I like to read headlines and short copy. It's fun to see how copywriters use minimal language to express their points of view!
d. I think it's fun to read old letters or even the comments sections of blogs! I find human nature to be fascinating.
3. Where do you find your inspiration?
a. In the world around us.
b. In my imagination.
c. In dreams.
d. In my relationships with people.
4. When people read your writing, what is their typical response?
a. They say they can relate to the stories and situations and that they seem real to them.
b. They usually say, "Wow! You're creative!"
c. They either love it or they hate it. I rarely write anything that evokes a "blah" response.
d. They tell me they have an emotion reaction to the characters or situations.
5. Which title appeals to you the most?
a. Life As We Live It
b. The Robot Wore Red
c. Love is Cold
d. Trudy and Jeff
So… how did you answer?
Mostly (a) answers:
You are enthralled by the everyday world. You would do well writing short stories or novels (fiction or non-fiction) that are based on real events.
Mostly (b) answers:
You love to pretend and make up anything! You would do well writing non-fiction, sci-fi short pieces, novels, novellas, scripts or plays.
Mostly (c) answers:
You think in snippets of words and phrases. You would do well writing very short stories or poetry.
Mostly (d) answers:
You are a sensitive writer. (You may also be a romantic!) You would do well writing novels (fiction), scripts and plays that delve into the ways that people interact with one another.
You might also like...
hi! I am an avid reader of books, the more romantic the better! I wish to write only romantic novels or short stories and that gives me a high. i tried your quiz and it was almost near the truth so i think i would like to get hold of as many sites that do not mind publishing my stories and write, write and write. I should thank you for your encouragement and also Writers Bureau from whom i got your site address. Hope to be able to write as i have completed a creative writing course in my country but haven't any success yet. I am from India but was born in uk so maybe i have it in me to be a writer! chow.
aruna
- 27-Sep-14 @ 8:15 AM