Using First or Third Person Narrative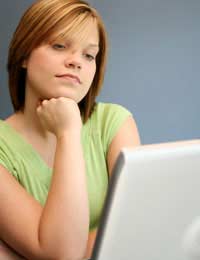 "Is it better to write in first or third person?" is the query of many creative authors novice and seasoned alike. (Second person, rarely used in fictional literature, will be overlooked for the purposes of this article).
Truly, neither first nor third person narrative is "better" than the other. When used appropriately, each technique can move a story along an interesting path. However, it's essential to keep a few thoughts in mind when deciding upon which to use, including:
The type of tale you're composing;
Your personal comfort level in using either voice; and
Which point of view will resonate with readers.
The Type of Tale You're Composing
First person has a very narrow focus; essentially, it's only representative of what the narrator can see, hear, feel and know. Therefore, anything that is said out of earshot or which happens when the main character (the "I" in the first person narrative) isn't present must be uncovered by some other means.
Third person narrative is much more all-encompassing, focus-wise. As the omniscient narrator, you are able to show and tell anything you wish. You can inform your readers of an event that happened in the past as well as one that will occur in the future… you can also describe the feelings of a dozen people. Essentially, you take on an all-knowing role when you choose third person narrative, which can be tremendously exciting (and also a bit overwhelming).
Not surprisingly, many fiction books are written in third-person narrative for the reasons addressed above. Those include romance novels, some children's literature and horror stories, to name a few.
However, some authors feel that third-party narratives limit the reader's (and writer's) ability to deeply delve into the "head" of a character. Hence, when it's important to a writer that readers identify on a very personal level with a narrator, authors often turn to a first person point of view. Not surprisingly, a good number of fictional "autobiographies", memoirs and "Who Done It?" thrillers are penned using first person narrative to captivate and inform.
Your Personal Comfort Level in Using Either Voice
If you find yourself gravitating toward one type of narrative over another, don't be too surprised. Most creative authors have a definite preference and if you're just starting out, you should absolutely use the one with which you have the greatest amount of comfort.
As you progress as a writer, you can experiment by writing paragraphs or short stories from one perspective, then rewriting them from another. For instance, consider three versions of a simple scene such as:
"Jerry and Rebecca sat on the bench, smelling the clover and wondering where to put their hands." (third person narrative)
"I sat on the bench with Jerry. It was awkward and I couldn't decide whether to grab his hand or not." (first person narrative – Rebecca's point of view)
"Rebecca and I were sitting on the bench. She smelled good… maybe it was the clover. But I didn't know how to get hold of her hand." (first person narrative – Jerry's point of view)
By playing around with subtle differences, you can increase your acumen as a writer and enjoy a bit of a break through this exercise, too.
Which Point of View Will Resonate with Readers
Finally, depending upon your readers, first or third person might be more appropriate.
Many young people are very comfortable with first person. It's what they know and how they talk. Basically, they see the world in terms of themselves, so if you write literature for tots, you may be able to instantly attract them with a first person narrative.
That being said, if you're writing in an anthropomorphic manner, third person could seem more realistic, especially to the child who has come to the conclusion that cats and crickets cannot talk. Again, it's up to you to determine which path to choose, but never forget that your readers will be one factor in your success.
No matter which voice you prefer to use in your literary art, make sure that you have a plan at the beginning of your writing and that you stick with your gut instincts (until and unless they turn out to be so-so).
Never be afraid to experiment. This is your time to play and shine!
You might also like...