Writing Horror Stories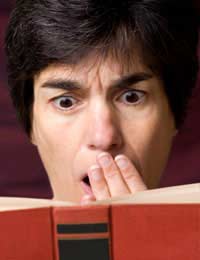 "It was a dark and stormy night…"
Horror stories have come a long way since this clichéd opening line was first penned. Today they fill the shelves and pack the cinemas.
If you're interested in pursuing a career (or just a hobby) writing horror stories, plays, and/or screenplays, you will no doubt want to consider the following items when developing the next "Frankenstein", "Psycho", "Carrie", or "North by Northwest":Keep Your Horror Stories Simple!
There's a tendency among horror writers to always want to "up the ante", but the most truly horrifying fiction is that which is simple and straightforward.
Basically, there's no reason to clutter up a good story with extraneous information or additional blood and guts just to add a measure of sensationalism. It's unnecessary, and will only detract from the piece as a whole.
Consider Edgar Allen Poe's poem "The Raven". It's a very uncomplicated scenario, but its simplicity is what makes it so psychologically chilling.
Guts and Gore Sell… but Not Always
If you're relying on gore to add horror to your story, you're not working hard enough. Genuinely superior horror fiction doesn't need to be peppered with overt violence in order to be scary or make an impact.
Of course, if you're only looking at the film industry, you might be enticed to think otherwise. After all, many of the movies being produced and distributed have terribly bloody scenes meant to shock and disgust an audience. But if you can masterfully manipulate your words and situations, you can achieve a much more intense level of horror without ever showing a dead body or a gruesome homicide.
Characters Have to Be Relatable
It's tough to care about a lead character being terrorized by zombies or haunted by demons if you don't actually give a hoot about him or her. As an author, it's your duty to create fictional individuals and situations to which your readers can and will relate.
For example, most families fear the death of a loved one; consequently, a play about losing one's spouse or child could have a significant emotional impact. Similarly, many individuals (even adults) are afraid of something – spiders, snakes, thunder – and will instantly relate to a character who wrestles with a phobia.
When an audience cares about the character or can put themselves into the story, the horror effect is magnified. Suddenly, they are experiencing the plot, not just reading about it or witnessing it on a screen or television. At that point, the horror becomes very palpable… and you've done your job well!
Story Lines Must Be Fresh
The "undead" coming back to seek revenge. (Sigh.)
Monsters who stalk innocent victims in the dead of the night. (Yawn.)
Seemingly normal people who spend their evenings committing heinous, violent crimes. (Ho hum.)
Those and many other horror story lines have been done to death (pun intended). That's why it's imperative for you to break out of the mould and show the world a new kind of horror, whatever that may be.
Although there's nothing wrong with writing out of a deep respect for another horror author, don't try to emulate him or her. That's a recipe for disaster, and you'll never be able to "top" his or her original style.
Instead, find your own groove and go at your horror writing with gusto. The more imaginative and out of the ordinary you can be, the better the chance that your readers will need to keep the lights on all night!
You might also like...