Tips For Using Language Effectively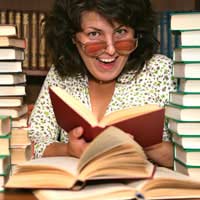 If you want your words to have the greatest appeal and impact, you need to pay special attention to the quality (versus quantity, i.e. "word count") of your creative writings. Here, we'll look at seven valuable tips for making your pieces "pop" by employing effective language usage and choices.
Select your words with care.

If you want to pen the strongest, most meaningful works possible, you'll need to be highly selective when it comes to picking appropriate words and phrases. Even if you've been told that your novel, play, or short story needs to be of a minimum length, don't allow yourself to fall into the trap of inserting bits of "fluffy" (and ultimately hollow) prose just to fill space.

Use your thesaurus sparingly… and with a dictionary in hand.

Your computer's word processing software probably comes with a built-in thesaurus, which is a boon to writers everywhere. However, though it can be a helpful guide, it's not a foolproof method of finding the right word.

Don't rely on the thesaurus every time you're searching for the "perfect" term, as not all the synonyms listed mean exactly the same thing. That being said, there's nothing wrong with using the thesaurus as a tool… just make sure you have an old-fashioned dictionary on hand to ensure the properness of the word you choose.

Read, read and read some more!

One of the best methods of becoming more literarily confident is to read others' works. Even if you simply pick up the local paper every morning and peruse the main section, you'll be increasing your personal stash of words and phrases.

When you read a particularly captivating metaphor or a term with which you were previously unfamiliar, take a moment and write it down in a notebook. Then, the next time you're stumped for something to say, open your personal "dictionary" and find some instant inspiration!

Edit someone else's creative piece.

When you agree to look over another author's creative writings as a sharp-eyed editor, you'll begin to recognise some of the same "traps" that you might have fallen into yourself. These can include the inclination to overuse "filler" words such as "really" and "nice" or reuse the same phrase in practically every paragraph.

Make sure you're saying what you think you're saying.

Another common problem that creative writers stumble upon is transferring an idea from the mind to paper (or computer screen.) If you're not 100% certain that your reader will understand what you've written, ask for some help from a friend, editor, or writing coach. After all, if your audience can't appreciate or follow your story, you haven't done your job.

Verbosity doesn't equal greatness.

Many individuals falsely believe that complexity translates to superiority; however, that's often not the case. Typically, simplicity is the key to making your creative writing sing. Otherwise, your pieces could become so bogged down that no one will be able to plod through the pages or, in the case of poetry, verses.

Know your audience.

Last, but certainly not least, it's important to keep in mind the people who will read your works.

For example, if you're putting together a children's book, you'll have to tone down your verbiage; otherwise, your young audience might become bored or confused. Similarly, if you're working on a poem aimed at retirees, the language you use will need to be relevant to your age group, possibly even referring to your readers' shared generational experiences.
Language is a beautiful thing and one of the cornerstones of civilisation. Use it wisely and reap the rewards.
You might also like...