Finding an Agent or Publisher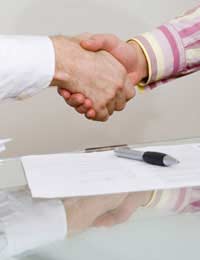 You've been working hard on your creative writings and you're finally ready to publish a book or collection. However, you realise that unless you choose the self-publishing route (and you're not really that keen on doing it all yourself), you're going to need a literary agent and/or publisher.
Congratulations! Pat yourself on the back for taking this initial step into the world of professional writing. It's a huge action on your part and will hopefully produce fruit for years to come. That being said, it's also something that you should do very carefully and judiciously, as there are plenty of people who would willingly take your money (and your dreams) and "run".
Of course, that's not a secret. There are many "charlatan" agents and publishers promoting themselves as ethical experts. Every day, they prey upon writers eager to become published and willing to do almost anything to get their names on the spines or covers of a book. That's why it's critical to exercise caution and take special measures when seeking out an agent or publisher.
Here, we've compiled some of the smartest techniques you can use when looking for the perfect person(s) to help you wisely navigate the publishing industry:
1. Don't be in a Rush One of the best things you can do when seeking an agent or publisher is to remain prudent and patient. If you think you're going to be published and making profits tomorrow or next week, you're fooling yourself. The publishing field moves slowly, so be aware of that fact. If an agent or publisher says they can "speed up the process", they are probably not telling you the truth.
2. Take Heed of "Red Flags"
Your "gut instinct" is your best friend when searching for an agent or publisher to represent you. After all, how many times have you said, "I wish I had listened to my initial feelings about…"? If something feels amiss, it usually is. Be watchful of "red flags" such as agents and publishers who promise too much or never seem able to answer a question directly.
3. Sign Nothing Until You Fully Understand It
We've all heard it: don't sign a contract without reading it. But as a creative author who wants to be published, you have to go one step further. Not only should you read (and re-read) any contracts presented to you, but you should also completely understand what you're being asked to sign. Pay for a lawyer's assistance if you're stumped on a clause; it's better to spend money to protect yourself than to lose profits (or copyrights) in the future.
4. Don't Be Susceptible to Flattery
It's hard not to like someone when he or she gushes about your writing. In fact, you may feel beholden to him or her for being so positive when others have rejected you. That being said, be more than a little bit suspicious of insincerity. Con artists and scammers love to grease the wheels of their thievery with heavy amounts of praise. If you think someone's extolling your work too energetically, you may be right.
5. Always Investigate Agents and Publishers
Even if you get what seems like a terrific referral from a good friend or colleague about an agent or publisher, do an Internet search on the person and/or company for your own safety and benefit. Plan to spend several hours over a few days researching (should you perform just a quick, precursory search, you may not hear the "real deal" about an agent or publisher.) Of course, some reputable industry pros might be criticised by their writers or peers; that's common. But if you see MOSTLY negative feedback and very little (if any) positive feedback, proceed with caution.
By being a wise, informed consumer, you can ensure that your creative writings will be in competent hands, not simply in the hands of someone (or many) who want to make money off your good faith. Good luck with your publishing goals!
You might also like...