Becoming a Professional Storyteller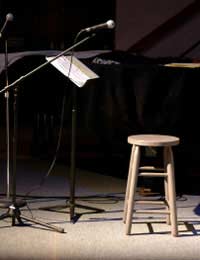 Not so long ago, the people of the world were much less literate than they are today. In such climate, the written word took a backseat to the spoken one. Consequently, the most engaging storytellers were heralded and sought by individuals, families, and groups as entertainers and historians.
Today, storytelling is considered a bit of a parlour game, and those who can hold an audience rapt with tales woven from air are rare. However, if you're a creative writer who has an outgoing personality, you may just be able to carve out a niche as a professional storyteller.
If that sounds like a fun endeavour, read on for ideas on how you can turn your writings into stage performances that will wow and amuse audiences young and old. Though you probably won't become rich, you may wind up much more satisfied with your hobby as a storyteller than many are in their 9-to-5 careers.
Practice Reading Your Stories Aloud Alone
Generally, storytellers are able to invent or convey tales without the benefit of a script, making their words sound spontaneous (thereby keeping their stories fresh.) However, if you've never tried storytelling before, one of the best ways to begin is to read your text aloud, using your papers as a "safety net".
Pick one of your shorter creative writing pieces – perhaps a poem or children's book – and stand in front of your mirror, holding your story in both hands at chest level (not in front of your face.) Read your piece out loud, making sure to look up occasionally, as though the mirror were a group in front of you. Don't simply recite what you wrote – add passion and enthusiasm to your carefully chosen words.
Read Aloud for Others
After you've tried the mirror technique, move on to reading before a live audience. Ask a family member or several friends to allow you to share your works with them. Then, get constructive feedback on your storytelling performance. Find out what they liked… and, more importantly, what left them cold or confused. Incorporate their honest comments into your next storytelling rehearsal.
Eventually, you should feel comfortable enough with your story to relate it to listeners without a copy in hand. At this point, you will be free to add more expressions, hand movements, and additional "body language" to your storytelling.
Get Some Theatrical Training
No, you don't need to run to Stratford-Upon-Avon and comprehensively learn the ins and outs of stage drama. However, it will help you tremendously to take a university or community class on the basics of theatre. During such a programme, you'll learn specific techniques to turn your two-dimensional story into a three-dimensional audience adventure.
In most such courses, you'll study pacing, appropriate gestures, volume, lighting, costumes, and potentially even make-up techniques. This information will serve to enhance your performance ability and comfort level, hence providing you with more freedom to be improvisational.
Offer to Tell Stories at Local Events
At this point, you're ready to start getting some experience as a real storyteller. Look for opportunities to share your material with others, such as at civic organisations or even charity fundraisers. Be aware that there are really no cut-and-dried places to tell a story; you'll just have to use your imagination and cleverly look out for possibilities.
For your first storytelling "gigs", don't expect to be paid. Do it for the experience and not the money; that way, you'll be able to focus on your art and not your bank account. If you get a good reputation and begin to receive "bookings", that's the time to set your price. But until that point comes, just treat this as a thrilling venture.
Remember – the art of storytelling isn't dead… it's just been dormant for far too long. Help bring it alive and give your creative writings a publicity boost along the way.
You might also like...