Illustrating Your Writing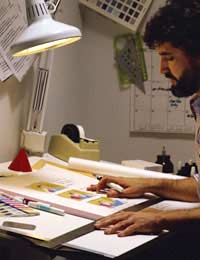 The creative writer who can also create visual images through drawings paintings, anime, or other artistic sources has a great deal of versatility that can translate to any number of lucrative and fun careers. Take a look at some of the hot jobs that are available to persons with this rare talent:
Cartoonist
If you consider yourself a humourist or satirist, why not turn your imaginative, witty musings into cartoons?
For many generations, cartoons have had the power to sway political races, achieve social upheaval and change, broaden people's perspectives and simply entertain. Open any newspaper and you're likely to see comics and cartoons strewn about to add interest and new elements to stories (or merely fill empty space.) And even some bloggers and website owners have begun to pepper their pages with silly or thoughtful images.
Magazines and websites also sometimes showcase comics and cartoons, most notably those geared toward a younger audience.
Writer for Children
Speaking of the globe's youth, your ability to illustrate a story could be a ticket to a budding career as a writer of children's literature.
Most children's authors must have a separate illustrator to fully bring to life their literature, which can be an impediment to their success. However, if you're able to approach an editor, agent, or publisher with a "little" piece or book that is illustrated and composed solely by you, it might have a better chance of consideration. After all, it's easier to deal with one individual than to juggle two.
Marketing Copywriter and Designer
If you're excellent at creating logos and designs, you could wind up selling your talents as a package deal. Not only could you help corporations or individuals come up with catchy slogans and memorable ad campaigns; you could also create the visual instruments to accompany those items.
Though you'll most likely need to start small by working either with an ad agency or taking on modest freelance assignments, you can quickly grow both your acumen and portfolio with patience and hard work. Ultimately, your growing positive reputation in the field will enable you to attract future clientele (and hopefully build your bank account!)
Online Game Artist
Anime is a relatively new category of visual art that's taken the Internet by storm. However, it appears that most anime creators while able to adeptly invent characters, are not gifted in the area of writing.
Consequently, if you're one of the rare few who can script anime "cartoons", storyboards, or online "games", you might be able to make a side living doing so from the comfort of your home.
Because this is such a niche market that isn't always recognised by the mainstream media, you may have a bit of a climb to attain success in this area; still, if you're fascinated by anime and the possibilities it holds, your tenacity could turn into a job you'll absolutely adore.
For the writer who is also a visual artist: remember that any time you can capitalise on your gifts, it will behoove you to do so. The more talents that you are able to package together, the higher your chances of earning a place in the creative writing field.
You might also like...