Teaching Creative Writing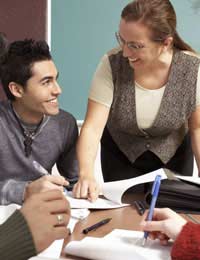 If you've spent a good amount of time as a creative writer, it might be the perfect time for you to start sharing what you've learned with eager students. Even if you're just a hobbyist (as opposed to a professional freelancer), your experiences and enthusiasm can greatly assist someone else in learning the ropes of putting pen to paper.
Of course, being an educator isn't for every person. Even if you're the most published, accomplished creative writer in the world, that doesn't mean you will necessarily enjoy the experience of instructing others in your chosen field.
To decide if teaching might be right for you, take this straightforward personality survey. Be honest with your answers, lest you find yourself standing before an audience with nothing to say and completely without gusto.
No. 1: Do You Like to Help Others?
Think back to your days in school. Which teachers stood out the most (in a positive way)?
Generally, we remember those educators who took an interest in their students as humans, not simply as numbers or grades. If you're the type of individual who is always willing to assist others in achieving their potentials, you may just find that becoming a creative writing teacher is incredibly fulfilling on a very personal level.
No. 2: Do all Facets of Writing Excite You?
Even though you may be teaching a class on creative writing, your students will likely have other interests as well. Thus, you could find yourself fielding questions on a variety of genres and aspects of literary matters.
Given this fact, you'll need to be open to learning other areas of writing, even if they aren't your strongest "suits". That way, you can speak intelligently on a number of topics, not simply those which revolve around creative musings.
No. 3: Are You Willing to Spend Time Preparing a Curriculum?
Teaching isn't a matter of simply showing up; as a good coach, you'll be expected to bring information to the table in a ready-prepared manner.
Consequently, you have to be willing and able to spend a great deal of time developing an interesting curriculum to keep your students (and yourself) excited and informed. Spending hours upon hours conducting researching and compiling a variety of data into a useable format must be factored into your decision to teach; therefore, if you aren't willing to spend the time "backstage", you probably shouldn't seek this kind of limelight.
No. 4: Are You Prepared to be "the Expert" (Even if You're Not)?
Educators can only say, "I don't know," so many times before students begin to doubt their professionalism. After all, they are supposed to be the "experts"!
As a teacher, you need to genuinely believe that you have enough of a basic knowledge to walk into a room and speak as an authority on the topic of creative writing. Obviously, you won't know every answer to every question, but if you cannot present yourself with an air of confidence, your students will begin to question every statement you make and your course will suffer from apathy and attrition.
No. 5: Are You Good at Explaining Difficult Concepts to Others?
Have you always been good at providing explanations for complicated matters? Are you the "go to" person when someone needs help understanding a hypothesis?
When you take on the role of an educator, you cannot know ahead of time how much knowledge your attendees will bring with them. Hence, you may find yourself needing to create clarifications at a moment's notice.
If, after some soul-searching, you still are eager to try your hand at teaching writing to others, be aware that education, though noble, is hardly lucrative. So approach this project/experience expecting to make very little money, but gain a great deal of exposure and expertise. And who knows? You might inspire the student who becomes the "next big writer" on the creative scene!
You might also like...