Make Your Own Bookmarks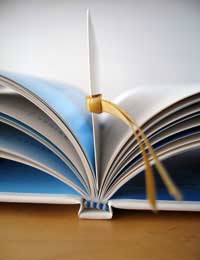 Scraps of paper. Dried flowers and leaves. Shopping centre receipts.
What do these seemingly disparate tidbits have in common? They've all been used as bookmarks at one time or another by readers who have nothing better with which to throw into their reading materials.
Chances are if you're an avid reader, you have your own preferred method of "marking" your page. However, if you're also a creative writer, why not turn your literary musings into fun, fanciful and perhaps even profitable (if you're an enterprising, entrepreneurial type of individual) bookmarks?
You don't have to get overly fancy to try this method of highlighting your writings. Inexpensive card stock is usually a good choice for bookmarks, but thinner linen paper can add a touch of elegance (though it's admittedly not as sturdy). Writings can be printed using the computer or written out calligraphy-style by you or a friend.
Below are some of the clever ways that common creative musings can be turned into bookmarks that may eventually be more coveted than the books in which they sit:
Poems
Poems often are quite brief. Consequently, they make perfect inscriptions for bookmarks.
If you have a computer or notepad filled with little ditties, you can easily transfer them to paper and then add artwork as a frame or illustration.
Short Stories
Can a short story be a bookmark? Depending upon it's length, you bet!
A creative work that's fewer than about 800 words can be transferred into a thin, multi-page "booklet" style of bookmark. Just beware of making the font too small; the point is to make something that's readable as well as useful.
A short story can also be turned into a bookmark "series" (each bookmark tells a part of the tale and keeps the reader "hooked" until the next installment.) Imagine the fun a bookworm friend would have in receiving a new "chapter" of your bookmark series each month!
Lyrics
Do you write musical lyrics? Why not put together a bookmark that includes both your words and the musical notes to play or sing your piece? (You may need the help of a musician to complete this project.)
This is a fun bookmark to send to someone at university, as it makes for an interesting diversion when inserted into a dull textbook on a dry subject.
Children's Stories
It's a fact: kids who regularly read do better in school and tend to go farther later in life. So why not make them special bookmarks to encourage them to read more often?
If you have a talent for penning children's stories, try composing a shorter-length one that can be written on a small bookmark. Illustrate it with simple pen-and-ink drawings or cut-out pictures from magazines and newspapers. The youngster in your life will love that you wrote it... and he or she will be sure to use it.
Slogans
Is your wit sharper than a tack? Do you often throw out "one liners" at parties, making people laugh and instantly lightening the mood?
Why not share your sayings with the world in the form of humourous bookmarks? They'll be well-received for their uniqueness and every time the bookmark is used, you're sure to make someone chuckle.
A Special Note:
Not "into" bookmarks? Don't despair! There are plenty of other places you can showcase your creative writing gifts, including on homemade magnets, decoupaged furniture, greeting cards, scrapbooks and even stickers.
The point to remember is that if you have taken the time to imagine something, there's no reason to let the fact that you're not a "published" author stand in your way of sharing it with others.
You might also like...