Comedy Writing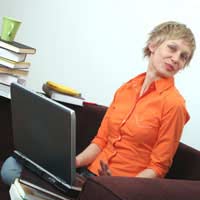 Comedy writing. It goes beyond just being funny; in fact the truth of the matter is that making people smirk, smile, groan, or guffaw can be downright challenging. If you long to be an author of humorous prose or poetry, it's important to keep in mind that what tickles one person's funny bone leaves another individual scratching his or her head... maybe even turning away in disgust.
Without a doubt, resonating with others in a comedic manner takes a great deal of talent and determination. Even professional comedians rewrite their best jokes time and again. They know that "flat" material could destroy their careers, so they take comedy very seriously.
Although you may not be writing funny pieces as part of your career, you can still use many of the tactics that professional writers of humour do. These include trying fresh techniques, finding your style, exercising subtlety, and handling feedback and criticism.
Trying Fresh Techniques
Though you probably have a certain tone with which you infuse all your comedic musings, that's no reason not to try others. For example, if you feel most comfortable writing tongue-in-cheek essays lampooning political figures of the past and present, why not sharpen your skills and test your wit by forcing yourself to compose an amusing limerick? Your topic area (i.e., politics) can remain the same, but the method you use to connect with your audience will differ.
By breaking out of your personal comfort zones, you'll be using different parts of your brain and perhaps even finding a better venue for your witticisms. As the old adage reminds us, "You never know until you try..."
Finding Your Style
As you're experimenting with various writing techniques, you'll likely find one or two that best matches your abilities. At this point, you can start developing a "signature" style, one that marks a piece as written by you and which is recognisable to readers as your work... and yours alone.
Many comedy writers are funny, but not all of them have a signature cadence, tone, or approach. Consequently, the authors who are able to make a niche for themselves usually are "stand outs" in their field. Obviously, finding your voice isn't likely to happen in a fortnight. It takes years of honing your writing skills, but if you have a love for the written word and the determination to struggle through writer's block and rejection slips, you'll eventually discover a tone that shouts, "I am the writer of this piece!"
Exercising Subtlety
In a world filled with raunchiness, it can be tempting to use lewd situations and vulgarities as the basis for your comedy writing. Generally speaking, that's a losing proposition.
Why?
First, infusing your comedic works with shocking language and situations may get an initial twitter of giggles, but you won't be remembered as an intelligent, thoughtful, interesting writer. You'll just be seen as someone who pens crude writings.Secondly, being "naughty" is much easier than saying the same thing in a subtle manner or using double entendres. Therefore, if you fall back on swearing, violence, or racially charged jokes, you're not working hard at all. In fact, you're barely scratching the surface or exercising your grey matter.
Lastly, this kind of writing has a very limited market. While it might attract a few regular visitors to your blog, it probably won't get much attention from agents, publishers, or editors. From a financial standpoint, it's practically dooming you to the slush pile. You - and your comedic writings - deserve better. So put forth an effort to raise a few eyebrows and elicit a chuckle or two through innuendo.
Handling Feedback and Criticisms
In a world of many opinions, you won't be able to please every funny bone. This means you need to learn how to take feedback and criticism the right way.
For instance, if a colleague or reader fiercely asserts, "This just isn't funny at all!" it's not a sign that you should immediately delete the piece from your files. After all, it may actually be hilarious to someone else. This type of feedback is very personal and not specific.
On the other hand, if someone who looks over your works comes to you with the advice, "I see where you're going, but I think the humour of the piece is getting lost in extraneous situations and explanations," you should absolutely take it to heart. This kind of constructive criticism could turn a so-so work into a good (or great) one because it contains pertinent information that you can actually use.
Always remember that you're not just writing to entertain yourself; you're writing to amuse others, too. So keep that in mind the next time you have a funny story to tell to the world.
You might also like...