Therapeutic Benefits of Creative Writing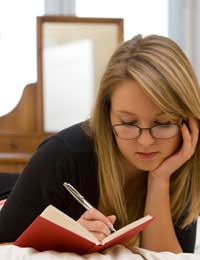 There's something about the act of writing that eases the soul and frees the mind. Perhaps this is why so many people turn to the written word in times of stress or confusion.
If you've had a recent event (or series of occurrences) which has left you feeling distraught or depressed, creative writing might be one of the most essential tools you can use to lift your spirits and help you move out of your doldrums or emotional turmoil.
Below we'll look at some of the times that utilising creative writing can be beneficial when life suddenly takes an unexpected or unwelcome turn.
After Surgery
You were hospitalised, and now you're forced to be less physically active than you were before as your body heals. Instead of ruing your fate (which will only prolong your misery), you can turn to creative writing to pen your thoughts and feelings. Write a poem about the loss of movement or put together a silly song about crazy nurses and what you see from your bedroom window. Allow your mind to explore the world with a freedom your body currently cannot.
Post-Trauma
If you had something worrisome, scary, or simply unforeseen happen, you may find yourself awake at all hours of the night, your mind playing back scenarios of what occurred… or what could have occurred. Instead of sitting in a dark room and indulging in your fears, take charge of your thoughts and write a creative piece about your experience. By forcing your mind to put your feelings and memories into black and white, you'll have a better chance of getting in touch with and moving past those events that troubled you.
After Losing a Loved One
It's part of being human - losing someone you care about. Whether a friend, family member, or even pet, it's a sad time. Rather than try to ignore or push aside your sorrow, why not embrace it? For instance, write a loving memorial work such as a heartfelt poem or a touching short story in honour of the person or animal who passed away. Not only will that act allow you to shed tears and move past your hurt, it will also be a wonderful testament to the relationship you had with whomever died.
Following a Divorce or Break-up
Though we all want our love commitments to last forever, they don't always pan out. Thus, we are left with feelings of self-doubt, anger and confusion. During these emotional times, developing creative written works can assist in smoothing out the "rough patches." What you may not be able to say aloud, you can weave into a story or play. Perhaps you can even create an semi-fictional "diary" of a person who experienced the same betrayal or emptiness as you.
By choosing to turn a negative experience into an opportunity to write some of the most innovative, inspired pieces of your life, you'll be able to get beyond those difficult moments when it feels as if life isn't fair or has become "too difficult." Though you should not choose creative writing in lieu of professional help, it can be a terrific supplement to achieving a new peace of mind and understanding of who you are and where you want to go.
You might also like...