The Makings of a Good Story or Poem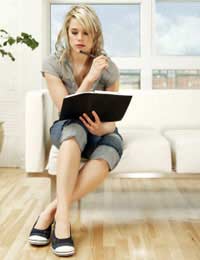 Writing a great creative work doesn't happen without some serious forethought. Though virtually all authors entertain the romantic notion of sitting down at a desk and furiously scribbling (without sleeping or eating of course!) the most outstanding poem, play, story, or novel the world has ever seen, that simply doesn't happen. Truly inspiring pieces take a significant amount of consideration, time, and even planning. Though creative writing is absolutely an artistic process, there is a scientific element to the practice.
Following that line of thinking, the following "recipe" has been developed for those creative writers who want a starting point for composing their finest works. Use it to help you write the wonderful story or poem that has been locked inside your mind!Recipe for Creating a GREAT Story, Poem, Play, Song… You Name It!
Ingredients
Focus –
Have you ever read a story and realised that it meandered more than a winding Alpine trail? It's tough to enjoy a creative piece that has no focus, no direction, and no reason for existence. Thus, if you're composing a story or play, make certain that it has an overarching theme (or several themes). During your editing process, having a focus will make it easier to delete sections that simply do not advance the "point" of the piece.
Easily Recognised – Readers of creative writing want to be able to "connect" with characters and situations on an intimate, personal level. Even if the pieces are about anthropomorphic creatures or futuristic aliens, they should resonate in some way with your audience. It is this that will captivate your readers and keep them turning the pages late into the night or sitting in the audience, rapt by the performance they are witnessing on stage.
Energy – There's nothing more disheartening than enthusiastically picking up a novel with a terrific title… only to find out that the title was truly the most exciting part of the story. Don't allow your audience to be disappointed; be certain to infuse your pieces with enthusiasm and energy. Remember – if you're not excited by what you're writing, it's likely that no one else will be, either.
"Tight" Prose – Obviously, the key to writing a great story is to be somewhat of a "stickler" when it comes to format and grammatical rules. If you consistently have difficulties with subject-verb agreement or the appropriate placements of commas and semicolons, invest in a basic English textbook to assist you. There's absolutely no reason to be ashamed; even prolific writers need to polish their grammar occasionally. (Note: The only exception to this "ingredient" is in the case of poetry, when playing around with language or syntax is acceptable.)
Believability – Even if you're writing about crazed, gigantic robots who take over the planet Earth in the year 2319, you'll need to create believable characters, situations, and reactions. When you do, your readers will be able to "lose" themselves in your writing, rather than skeptically noting, "This doesn't make any sense." Creating a "storyboard" with details about the world you've created, the characters you've invented, and a historical perspective on what's occurring can be extremely helpful to keep you on track.
Directions
Toss all ingredients together liberally. Allow to sit, then toss again. Remove any extraneous elements. Toss again. Have someone else "taste" and season appropriately.
Enjoy!
You might also like...