Send Stories to Friends and Family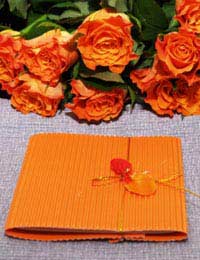 Though not all authors are created equal, most seem to be a bit hesitant to share their musings with "just anyone." However, by keeping their creative writings to themselves, they are ultimately denying potential joy to others who might glean strength, laughter or insight from their images and characters.
If you've been hoarding your works, it may be time for you to allow them to see the light of day. Even if you're not sure that they're ready for the eyes of an agent or publisher, there's nothing wrong with submitting them to a far more sympathetic crowd – your friends and family.
Here, we've bundled a few ways to delicately introduce your loved ones to your written world in an effort to give your creations a chance to shine. Best of all, these ideas are not intended as "please edit this for me" situations; instead, they are simply to help your words and musings find a broader audience.
Special Event Poems
Are you especially good at crafting poetry, whether in the form of short haikus or epic poems? If so, why not take it upon yourself to write a special birthday poem for each of your friends and/or family members over the coming year?
Each poem can be displayed in any way you'd prefer – a calligraphy scroll, printed out on colourful computer paper, or even cross-stitched onto a throw pillow! It's not the presentation that matters, but the fact that you're sharing your writings with others.
At first, those you care about may be surprised or even a tad confused, especially if you've never done anything of this nature before. But in time, your works are likely to become highly treasured and repeatedly enjoyed by those in your "inner circle."
Write Stories Using Your Family as Characters
Do you have a gift for entertaining others? Do you tend to make people laugh through your literature? Then you may want to spend some time preparing a special humorous short story using your family members as characters.
For instance, if you had many siblings, it's likely you all got into scrapes now and then during your formative years. So why not take the essence of those true tales and weave them into something a little "taller"?
If you specifically compose some laughable pieces (that still retain a soft side), your writing could just turn out to be a hilarious (and quite unexpected) holiday gift that everyone will be talking about for years to come.
Give Your Stories as Presents
Money tight? Budget squeezed to the max? If so, you could always turn your writing into presents for loved ones.
Many writers overlook how much people enjoy receiving homemade gifts. Though there are some individuals who pooh-pooh items that didn't come with a price tag, most gleefully accept unusual, heartfelt offerings.
If you've spent time putting together a collection of poetry, song lyrics, plays or stories, why not consider getting them bound at a printer? There's no need to go to the work or expense of self-publishing them, of course; any office supply shop can do an adequate job. What you want is to wind up with something that is both attractive and very personal.
Imagine the delight your friends would have upon getting the "first" copy of your newest play. No, it might not have been picked up by a well-known publisher yet, but it still may be one of the most unforgettable presents they've ever received. And you won't have to wonder if it fits… after all, literary pieces are always the "right size"!
Never be afraid to use your creativity to expand beyond your writing desk, thereby opening yourself up to new ways to showcase your literary talents. Even if you never sell anything you write, you can still use your writings to bring symbolic richness to both yourself and others.
You might also like...