Personal Website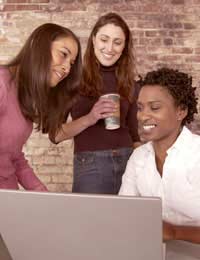 Does it ever seem like everyone in the world has a cyber presence? So why don't you jump on this Internet bandwagon?
If you're a creative writer looking for a new outlet to display some of your imaginative musings or obtain feedback from likeminded authors and readers, a personal website could be the ideal showcase.
However, you'll need to take some precautionary measures to make sure that you draw the right kind of traffic to your online alter ego and obtain the most from your experience.
Find the Right Forum for You
Looking to earn money in return for your writing? Then you need to construct a professional website that has a polished, unique look. You'll want something easy to navigate, geared toward a more creative audience, and highly engaging; consequently, you can expect to spend a little moolah for a decent site with a catchy name (unless you or someone you know can design an appropriate webpage for next to nothing).
On the other hand, if you're simply looking to meet other writers and discuss the fun, foibles, and frustrations of being a recreational (or struggling) storyteller, poet, novelist, or playwright, you can save some pounds and join one of the plentiful free sites available on the Internet through various providers. Though you will be limited by their templates (and thereby unable to have a distinctive appearance), you'll be able to quickly and rather efficiently get online.
Be Cautious about Giving Away Too Much
Just because you have a personal website doesn't mean it should be an open book about you or your writings. Cyber thieves and deceptive publishers are always on the lookout for new material to sell to agents, websites, or publications; thus, be wary of what you choose to highlight on your webpage when it comes to unpublished materials.
Of course, that doesn't mean you should never go out on a limb and showcase some of your creative works that haven't yet been "discovered"; after all, you may find your target audience online. For instance, if there's a poem you can't seem to sell anywhere, why not ask visitors to your website if they have hints to make it more marketable? Who knows? A musician might just contact you asking if he or she could perform your poem onstage as part of a new song.
(Quick Note: Simply adding a "copyright notice" at the bottom of each page will go a long way toward informing anyone reading your words that you are serious about retaining the rights to your work.)
Keep Up with Your Website
One of the most frustrating experiences as an Internet surfer is finding a website you love… only to realise that it's only updated once in a blue moon. If you cannot find the time to keep your site fresh and interesting, having one may not be a good investment or "sales piece" for you.
This is especially true if any part of your personal site requests commentary or involves blogging. Visitors expect blogs to be updated about once a week, if not more frequently, so you'll risk losing your "regulars" if you can't deliver "the goods" they desire.
Don't Put Too Much Information about You or Your Family Online
Have a writing curriculum vitae (CV)? Then by all means put it on your personal webpage… just make certain you eliminate all data such as your home address, your home phone number, personal identification numbers, detailed family information, etc.
Again, con artists are always on the lookout for such data and can use it against you. Remember to have a "safety first" mentality, as security is definitely an issue when you're putting yourself into the cyber marketplace.
With a bit of pragmatism, you can ensure that your personal website is exactly what you need – a forum to meet others, shine online and most of all, further explore your love of the written word.
You might also like...