The Benefits of Social Networking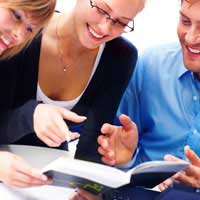 There's a romantic notion that's been perpetuated that great writers must somehow operate in seclusion, eschewing the companionship of others in order to create the perfect environment in which to create.
Yet in real life, writing doesn't only happen in a vacuum. In fact, the more often authors open themselves up to the people and experiences in the world around them, the stronger their musings tend to be.
If you're new to social networking and are not quite convinced that it will help you on your way to become the best writer you can be, consider these advantages to avoiding the hermit lifestyle:
The Experiences You have Will Give You Inspiration
Though you can certainly get inspiration from your own head or your immediate family, you will also get a plethora of ideas when you expose yourself to situations outside of your home. A mere stroll down the street could provide the motivation and seeds for your next play, short story or novel.
You'll Meet Other Aspiring and Professional Writers
Yes, you could always stick to surfing blogs and writers' message boards via the Internet and only "meet" other writers in virtual settings, but there's something to be said about chatting with another author in person. There are often writers groups available on a community or regional level, so why not join? You don't have to be an extrovert to trade experiences with others.
You Will Hear about Trends and Jobs
Knowing other writers is a terrific way to hear the "word on the street" about publishers, job openings and other writing-related possibilities. By broadening your social network, you'll be upping the odds of getting first-hand knowledge of market needs before your peers do. (And that could mean the difference between a paycheck now or a paycheck much later!)
Social Interaction Combats Loneliness and Writer's Block.
Even if you're not socially networking with writers (e.g., you're involved with a volunteer organisation or your child's sporting team), you'll still be inspired by the camaraderie of others. Often, authors who are mired in a personal "funk" discover that simply getting out and mixing and mingling helps them climb out of a writing trough.
You can Position Yourself as a Leader in Your Field.
Let's say you enjoy writing historical fiction. When you begin talking about your craft and your expertise (in a humble but knowledgeable way, of course), you'll be on your way to positioning yourself as a leader in your niche market. This could prove to be incredibly valuable (fiscally and socially) in the future, as you might be called upon by other writers as a resource.
You'll Find out if Your Writing is Resonating with Others.
Most writers are happy to read other writers' works, and you may be able to find a writing "partner" (or a number of partners) or mentor if you get out of your house or apartment and begin to meet other adults who put pen to paper. Perhaps you can trade stories and poems in an effort to see if your writing is striking the "right" chord.
Remember - you don't have to be the life of the party to get the benefits of social networking! But you do have to get off your office chair… so stand up, stretch, and start moving.
You might also like...