How I Turned My Writing Into a Full-blown Play: A Case Study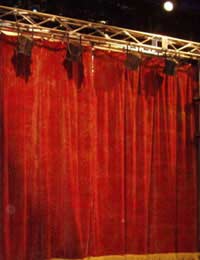 Name: Julie Cullings
Full-Time Occupation: University Enrollment Management Specialist
Hobby: Playwriting, Acting
Question 1. Thanks for interviewing with us, Julie! How long have you been writing? What kind of writing do you gravitate towards?
I've been writing since I was about 13. Once I started receiving accolades for school assignments, I realized I might actually be good at it!
I've dabbled in different kinds of writing, but I really felt a connection with playwriting, mostly because I have a passion for theatre. I've been an actor, stage manager and director. Since I had an interest in writing, playwriting just seemed like the next logical step.
Question 2. When did you start writing plays? What was your first play?
I've always had ideas for plays, but never had the courage to put anything on paper until around 2004. I was volunteering with a youth theatre group. I was responsible for directing two one-act plays, yet I was having a difficult time finding truly comedic plays that were still suitable for young actors. I wanted to see a comedic, female-dominated play about unique characters and the tangled web of relationships among them. This was the structure upon which I built "Shared Assets", my first play.
Question 3. That's terrific! Tell us a little more about "Shared Assets"...
"Shared Assets" is a full-length comedy about a woman named Ann. She recently opened a diner, and is really just trying to rebuild her life after losing her job and her husband to a former friend/co-worker. On an ordinary day at the diner, her former friend, Natalie, shows up to stir up trouble. Throw into the mix a ditzy diner waitress; another former co-worker who is obsessed with unicorns; and Natalie's overbearing, bingo-loving mother. Everyone has something to gain and something to lose, and they soon learn that everything is not quite what it seems.
Question 4. How many edits did your play go through before you felt it was complete?
Countless edits! I thought I had finished the play in 2006, after two full years of writing. I didn't look at it again for several months. Once I finally picked it up again, I found so many things to change. It's amazing what a fresh viewpoint will do for your work! Even after "Shared Assets" was selected as the winner of the 2008 York Little Theatre Pennsylvania (United States) Original Playwright Contest, I still made significant changes. I'd say I'm done now, but I can't commit to that. Close enough, though!
Question 5. How did your previous experience as a writer enable you to put together a play?
My previous experience writing short stories and turning an idea into words on paper helped me create the foundation of my play.
In all of my previous writing experiences, I was telling a story. Playwriting is really no different. In plays, the characters tell the story. The thing I learned fairly quickly was that it's not all in the dialogue. The things that characters say, the things they don't say, the things they do and don't do--all of this makes the story. It's not just me doing all the talking; the characters are doing the work, I guess I'm just guiding them along my vision.
Question 6. Did you have other people look over your play?
I'm very self-conscious about my work, so I didn't show it to anyone until it was finished. Even then, I was hesitant, especially with family members. I'm kind of paranoid in thinking that if they say they like it, it might be just because that's what they are supposed to say. I want to hear it from an independent third-party.
If I get positive feedback after submitting my work to contests or theatres, then I show it to the people I care about.
Question 7. How exciting is it to have your play being performed by community theatre actors?
It's a Dream Come True.
I think it's every playwright's dream to share their vision with the world. It's such an honour to be recognized in this fashion, especially since playwriting is so competitive. There are lots of writers out there who never have the opportunity to see their work performed. To have this opportunity at such an early point in my journey as a playwright is so rewarding. I'm going to savor every moment of this experience, because it really could be a once-in-a-lifetime event.
Question 8. What advice do you have for aspiring playwrights out there?
Don't give up.
I haven't been around the playwriting scene for that long, but I've learned quickly how stiff the competition is. There are so many talented writers out there who have great stories to tell. Rejection is just part of the game. For every production a playwright receives, I'm sure he/she has at least 100 rejections to show for it. I know I do!
You might also like...