Joining a Creative Writing School: A Case Study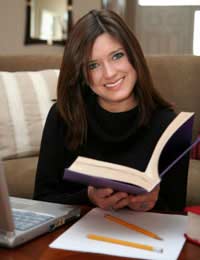 Joining a creative writing school was the best move Anne ever made. A short time after joining, her writing aims and goals were unrecognisable and she was achieving things she'd never dreamt possible.
The Problem
Anne always enjoyed writing as a rewarding leisure activity. She knew she had a natural flair for writing and constantly attracted admiring comments about her work. Writing was just a hobby or something she did to please herself. At the time that seemed to suit her.
After leaving college, she embarked on a successful career in marketing which gave her some interesting and challenging outlets for her writing skills.
When she left her career to embark on the challenges of motherhood, the daily humdrum of family life consigned her writing aspirations to the back burner. It wasn't until the children were a little older and started school full-time that Anne was left wondering what came next.
There seemed to be so few opportunities for part-time work. Anything that offered a decent salary brought long and inflexible working hours with it. How could she earn money and be the sort of mother who was always there to collect the children at the end of the day? What sort of work would make sure she was around for the long school holidays or those days when they were home from school with the latest bug?
That's when her writing skills started to take on a different appeal. If she had the skills, surely she could use them to make some money to boost the family budgets and give her a sense of fulfilment but like so many would-be writers, she lacked direction, confidence and knowledge.
The Answer
With a bit of research, Anne discovered a creative writing school which was fairly local and seemed to answer all the questions and doubts that were nagging her. It was run by an established writer with several books under her belt and a proven track record.
Like many such schools, the creative writing school offered various classes, directed at writers who wanted different things from writing.
There was a Creative Writing class for people who enjoy writing as a pastime, a class for writers who wanted to focus on finally putting together that book they always wanted to write and a class aimed at those whose sole aim was to be published and make some money from their writing. Anne couldn't wait to join up.
Apart from the classes, the creative writing school offered targeted workshops, specific skills tutorials and regular targets for its writers to meet. If there was ever any doubt that writing was the right route to follow, the school also hosted a speaker evening once a month. It was a chance for the students from all the classes to mingle. The speakers were drawn from every part of the writing world- published authors, agents and publishers.
Making Progress
Anne seemed to benefit from her experience at the creative writing school in so many ways. The writers in her class all wanted to or had been published. They had a wealth of knowledge and advice to offer. This was very much in evidence when each student read out a piece of work at the monthly 'read back' session. Not only would students offer critiques and advice about writing style and technique but there were always plenty of suggestions about where the work could be sent. Market knowledge was openly shared and experiences swapped.
The tutor of the classes was always keen to motivate students by giving them a set target every month that guided them on the amount of work they had submitted to various markets and outlets. This included articles for consideration, short stories and even hints, tips and letters to the editor.
Good Results
Making sure that she kept up with these targets and produced enough work to sell, meant that Anne soon started to see results. Her confidence grew and buoyed up with plenty of direction and encouragement, she began to see her work being published. Once a hobby, her writing had become a very enjoyable, paying career.
It started when she sold a few short stories to national women's magazines and an opinion piece to a national newspaper. As Anne's confidence increased, she was able to pitch for work from various companies and organisations and she soon began writing copy on a variety of subjects.
Anne has since published a non-fiction book and has co-authored two other fiction anthologies. She feels that without the guidance and support of the tutor and students at the creative writing school, she would lack direction and confidence.
You might also like...