Finding Story Ideas from Popular Media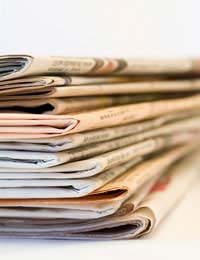 The world around us is saturated with story ideas. This has become apparent during an era where our daily lives are filled with media messages and entertainment of every description. Popular media is a powerful springboard of inspiration that gives birth to some wonderful stories.
We are always reminded that there are only a limited number of original plots and that most new storylines are merely a variation on these plots. It's not enough to lazily reach out and pinch one of these ideas, change the title and present it again as your own work. The trick is to take those plots, look at them with fresh eyes and find ways to make them different and new.
Where Are all These Ideas?
The ideas really are all there, tucked up in every form of popular media. Tune your mind in and become receptive to these ideas. Training yourself to turn the ideas into something original is a skill in itself.
Open your mind and look to some of these fascinating sources:
Sing titles are a fantastic source of inspiration. Concentrate solely on the titles and don't allow your ideas to be prejudiced by the lyrics or 'plot' of the original song. You should be able to come up with something entirely different.
Agony columns are an endless source of ideas for the writer. Each problem or conflict is a base for a story. Before you read any suggested solutions, answer the problem posed by coming up with your own plot idea. Take these people's lives in a different direction. Question motives and ask 'what would happen if' at every turn of the story. Try putting together a plot that takes its inspiration from the viewpoint of a different person who is involved with the problem. Instead of taking the wronged wife's story, explore ideas about the philandering husband. Why has he done this? What sort of a life has he had with his wife? Is he really the evil party?
Newspapers are packed with intriguing situations that are a great base for so many different plots. Do not let the content of newspaper articles prejudice your ideas. You should be able to gather some fabulous ideas using the headlines alone. Take a look through a newspaper and you'll notice how intriguing and enigmatic some of these headlines can be.
Visual media like films, soap operas and drama are all great sources of ideas too. How would you have tackled the subject? If you were writing this story, how would it end? How does the story continue once the film or programme has ended? What would happen if...? How would the story differ if written from another characters viewpoint? Can you make a story from events that may have taken place before the film even started?
Advertising billboards and magazine advertisements are a rich vein of ideas. So many photographs tell a story. Take the chance to come up with new twists and problems for the models featured in the media.
Writer Beware
Taking inspiration from popular media is not a licence to plagiarise work. Copying other people's work is never permissible. Accept that plot ideas are limited but stories are unique and it's just a question of your treatment of those ideas.
Remember to resort to your own ideas on the plots- extend the idea, change character details such as sex, age or viewpoints. Add your own twist to the ideas that alters the course of the story. Try changing the genre of a story, what would happen if a historical story was made contemporary. This would shed a totally different light on the way characters behave, think and react to different situations.
Don't forget that the old adage that 'fact is stranger than fiction' really is true. Some true stories do not translate into fiction because they are just too implausible. A lot of real-life occurrences rely heavily on coincidence. By turning those facts into a story, you may render the coincidences a plot twist too far; they may be too fanciful or unlikely. We can accept reality because it is just that- reality.
Be careful how you treat characters derived from real people. Change names, events and places so that identities cannot be linked to real or living people.
Put yourself into the right frame of mind, open your eyes and take in the rich treasures of inspiration that surround us in popular media wherever we go and whatever we do.
You might also like...