Using Other Works Without Plagiarising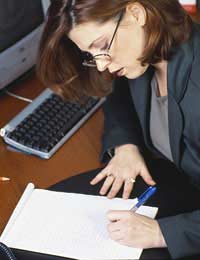 If you have an appetite for creative writing, it's only logical to assume that you probably have an avid interest in reading, too. It's a known fact that most authors spend a great deal of time looking over others' works, if only to better their own abilities and generate ideas. However, if you're planning to publish any of your writings in print or online, it's incredibly important to beware of inadvertent plagiarism.
Believe it or not, you don't have to deliberately "steal" another writer's words to be guilty of plagiarising. Concepts can be plagiarised, dialogue can be plagiarised, and, if you're working in the creative writing arena of penning slogans, those, too, can be plagiarised.
To protect your reputation as an honest, forthright journalist, make sure you understand the best ways to avoid "lifting" too much from other writers' published works:
Always Use Citations

Many writers forget that when you're repeating another's words verbatim, it's essential to cite the information. Basically, you are quoting someone else; thus, you'll need to educate yourself on the proper way to use the information as a reference without making it appear to your readers as if the text is your own. Whether you use AP Style or another common method to cite sources, it's imperative that you give credit where it's due.

Research Using Many Documents

If you're writing a creative piece that requires you to engage in some homework, try to use at least three document sources for research purposes. These can be print sources or from the web; their locations aren't as important as the fact that you'll be getting several views. That way, you'll be less likely to lean heavily on one, which could spell a recipe for disaster from a plagiarism standpoint.

Invest in Special Software

Are you planning on writing creative copy for the Internet? You may want to invest in some of the software available on the market that can stop cyber plagiarism in its tracks. Basically, the software will cross-check your drafted document with thousands of other similar ones on the web, and any signs of duplication will be noted. Because many website content managers regularly employ this type of software to weed out plagiarists, you may want to avail yourself of it as well.

Get Permission to Reprint

In some cases, you may be allowed to legally reprint others' creative works if you receive permission ahead of time. For instance, let's say you have a blog that's dedicated to imaginative musings. You stumble across someone else's poetry during your daily trawling of the Internet and would like to reproduce that poem on your blog. Rather than simply cutting and pasting and attributing it to the author, go the extra distance and request that the writer give you permission to use the poem on your site. Who knows? He or she might be flattered enough to return the favour and post your writings on his or her web presence.
By being attentive to the serious act of unintentional plagiarism, you can head off any troubles, be they legal, ethical, or moral, before they become overwhelming or hurt your standing in the journalist community.
You might also like...