Using Your Family for Inspiration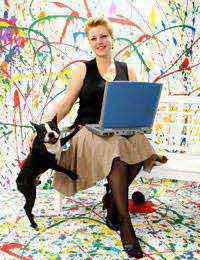 Your dog has a habit of hiding mail. Your spouse becomes a snoring blanket-stealing bear at night. Your in-laws see nothing wrong with popping in… and bringing loads of dirty laundry to wash every time they visit.
It's called "family", and it's wonderful (though admittedly frustrating) fodder for creative stories.
The next time you're ready to pull your hair out as a result of the foibles of your home life, consider embracing all those crazy habits and working them into a funny or insightful story instead of allowing them to catapult you into a land of insanity. Here's how:
Write Down Humorous Events
First of all, whenever something happens in your household that makes everyone laugh, quickly jot it down.
The baby dumps pasta all over herself… right before you are all heading out the door. Or your cat wildly attacks a plant, sending dirt and leaves cascading to the floor just as the dinner guests arrive. These are all moments that can either be seen as horrific or hilarious; choose to view them as the latter, and they could become the kernels of your next great creative work.
Embrace Life, Don't Just Live It
Sometimes, we get so caught up in our lives that we forget to stop for a moment and really "see" what's going on.
Allow yourself to take a break once in a while, stepping outside of yourself to see your family in a new light. Really observe the relationships between brothers and sisters, husbands and wives, in-laws and "out"-laws. By doing so, you may be able to objectively pinpoint some interesting examples of human nature which could become the essence of a play or children's book.
Find Out More about Your Family
Think you know everything about your loved ones? Guess again.
You may be surprised to learn that you had no idea your son's favorite colour was purple or that your city slicker spouse actually dreams about renovating a farmhouse and living in the country.
Play the part of an interviewer and ask a few questions of your closest family members; you'll be amazed to find out that they are much more complex than you could have imagined.
Allow Your Family to Read Your Writings
If you have any family members who can be objective and not overly-critical or negative, why not allow them to look over some of your writings?
By obtaining their feedback on one of your stories or poems, you may just be able to take it from the level of "so-so" or "good" to the land of "great".
As an additional positive outcome of this exercise, you may find that your family can be your number one supporters if you only give them the opportunity.
Keep a "Memory Book"
Finally, you may want to start a family-based "memory book" so you can log all those great stories from your family's past.
Begin writing down all those tales you heard growing up, and you'll soon have a valuable piece of history to hand down to future generations. You'll also have a terrific source of creative fare for you; after all, doesn't almost every family have a few tales that everyone feels "would make a great book"? Perhaps you can be the one to make that notion a reality and immortalise your relatives forever.
You might also like...