Using Work for Writing Inspiration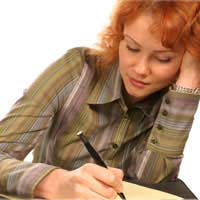 Looking for inspiration for your next creative writing piece? Believe it or not, you may be able to find an idea or two at the place where you earn your wages. Truly, the workplace is a ripe environment for writing concept fodder. Here's why:
The Office Operates as a Mini-Society
Let's face it - company life mirrors society rather accurately. There's a hierarchical chain, everyone has his or her "spot" and there exists an accepted behavioural code. Whenever those expectations are violated, expect some kind of rumbling or even emotional fireworks. And when an employee leaves or a new worker is brought into the mix, the societal balance will be challenged, leading to a time of transition.
As a creative writer, you can enjoy these ripples at work instead of allowing yourself to be worn down by them. Step outside the fray and watch as though you were an outsider (as much as you can given your position within the corporation), paying close attention to how each of your colleague's reacts to change. If you're observant, you'll uncover some fabulous tidbits for your next creative writing piece.
Emotions Can Run High at Work
People don't stop being themselves just because they are at work. That means if they are intense at home, they'll be intense at work. When something unexpected occurs on the job, individuals tend to revert to a "survival" or even childlike mode - the manager may turn a lovely shade of purple and scream; an accountant may break down into a flood of tears; or the computer technician may essentially "hide" under desks, staying out of the way until the air clears.
As these breakdowns happen, put on your "creative writer" cap and notice how every person responds in his or her own way. (If you're very brave, you might want to take note of how you naturally react, too.) Keep notes (but don't allow them to get in the wrong hands) and use them to add flavour and spice to your next story or play.
Crazy Things Happen at the Office
Ever had "one of those days"? The biggest client decides to go with the competition for no apparent reason. Your longstanding, seemingly "proper" CEO resigns after a charge of infidelity comes to light. The company announces an unexpected merger. Though you're likely to be as "thrown" as your co-workers when you first hear about these wild things, don't underestimate how beneficial they can be in terms of helping you develop your next tale or song.
People Tend to Talk on the Job
Do you have a colleague who regularly spills his or her "guts"? How about a friend who can't stop talking about problems at home? Try as you might, it's difficult to escape situations like these; therefore, embracing them could be your ticket to getting through a day of hearing how Midge's aunt was rude during last weekend's family gathering.
Again, by staying perceptive and not simply tuning your co-workers out, you'll unearth funny, touching, or even insightful ideas for a creative writing work.
By being alert and a little open-minded, you can glean much more from your workplace experiences than a salary and a CV builder. After all, where would Ricky Gervais be if he hadn't been an observant employee?
You might also like...