Taking a Creative Writing Course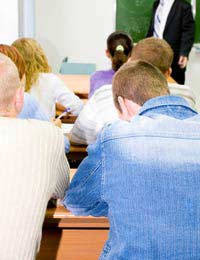 If your desire is to become a more proficient creative writer, you may want to consider signing up for one of the many creative writing courses offered either online or through a local organisation.
Though such educational fare is admittedly not for everyone (some find it overwhelming to work in a group atmosphere), if you're the type of writer who enjoys a slightly structured learning environment, a class might be what you need to take your poems, stories and plays to the "next level."
Here, we'll explore some of the numerous benefits of creative writing courses so you can decide for yourself whether to jump into this method of becoming a more innovative author or whether to try another method of self-improvement.
You'll Meet (and Learn from) Other Writers
Whether you take a class in person or via the web, you'll be surrounded by a group of likeminded individuals. As you share your journalistic triumphs, concerns, challenges and ideas with one another, you'll begin to develop a clear understanding of your own preferred style… and you'll also become more proficient at expertly critiquing others' works. (The latter could greatly help down the road when you're asked to rewrite something you've penned.)
The Cost for Creative Writing Classes is Usually Quite Modest
Unless you register for a class headed by an internationally well-known creative writer such as John Updike or Stephen King, you probably won't be spending a ton of money. In fact, some "virtual" classes may be offered free of charge as a way of helping writers network with one another. This makes taking a course a terrific investment, as your biggest outlay will be in terms of time, not pounds.
You'll Better Understand Your Own Strengths and Challenging Areas
In a creative writing class atmosphere, even a very laid-back one, it's common for all the "students" to read (and sometimes comment upon) one another's works. Though having your pieces looked over for the first time can be a bit nerve-wracking, the experience will enable you to gauge where you stand in terms of your writing skills. Unless you plan to simply write for yourself (and that's perfectly fine), this kind of feedback is tremendously valuable.
For example, you may realise that you are quite adept at making your audience chuckle when you write very short poems or song lyrics; however, your short stories might not be quite as interesting or engaging. By comparing and contrasting your own creative writings with others', you'll be able to improve measurably.
You Will Have the Opportunity to Read Some Amazing Writings
If you like to write, it's logical to assume that you probably like to read, too. Imagine being able to pour over an "unknown's" pieces and provide feedback for him or her. What a complete treat for you as an individual with a high regard for the written word! Chances are, you'll also learn a vocabulary of new words in the process; that's always a plus for any writer who wants to stop relying on the same old clichés or metaphors.
So… are you ready to sign up? If so, check out your local paper, university, book shops (some offer writing courses or roundtable discussions for aspiring authors), and creative writing websites. Regardless of which one you choose, try to take away from it whatever you can… and good luck with all your "scribblings."
You might also like...