Bringing Out Your Creative Side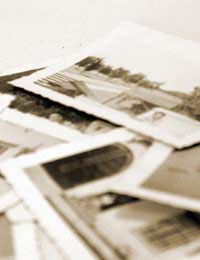 For many authors even those who are innately innovative, creativity may not come as easily as they would like. This is especially true when a deadline is looming or their brains feel empty as an abandoned cabin. At those times, it's beneficial to know that there are some "tried and tested" methods to jump-start a flat lined imagination.
Try out some of these seven inspiration-boosting techniques the next time your well of creativeness has run dry.
Peruse Old Photos

Not only are photographs enjoyable to look at, but they can also be a powerful source of stimulation. When you're feeling low on creative ideas, peruse some of your personal pictures. Allow yourself to remember all the people, places, and events depicted in the snapshots, paying special attention to the way you felt at the time the photos were taken. By activating your emotions and memories, you'll increase your chances of being able to return to your writing with a renewed sense of determination.

Take a Stroll

Exercise revs up the body and the mind; consequently, even a 5-10 minute walk or jog can have a positive effect on you as an author. Make sure you pay close attention to your surroundings; what you observe could be fodder for your next creative work.

Listen to Music

It's long been accepted that melodies can activate brainwaves. When you're feeling uninspired, pop in a CD of your favourite tunes from any genre or era and allow yourself to bask in the ambiance of a hauntingly beautiful concerto or the bass-thumping atmosphere of a heavy metal group.

Write without Stopping

One of the best ways to spur creativity is to sit down and write. Simply put words on paper and don't concern yourself with spelling, grammar, or content. Though you may not feel entirely comfortable at first, after a few minutes, you will likely find that a creative area of your mind has been activated by this free-form activity.

Read Something You've Written

Feeling a little bit like you're all "written out"? Why not look over some of your past creative works? You may just find that an old story can be a terrific source of material for a new piece. If nothing else, you'll see just how proficient you are, which will boost your writing confidence and help motivate you to pen more essays or poems.

Play with Toys

Have kids? Get out their toys and start to play. If you don't have youngsters around, buy yourself some paper and coloured crayons or pencils and just doodle for a while. This type of "childish" activity can release your inner muse who has been hiding behind the guise of maturity that all adults are forced to wear.

Rewrite an Article

Pick up your local paper and choose any article, then challenge yourself to rewrite it in a creative manner. Make it humorous, make it crazy, make it fun. If you really "get into" this technique of bringing your creativity to the surface, take it a step further by writing "captions" for pictures you see in your newspaper or magazine.
You might also like...