How Often Should You Use Your Creative Writing Skills?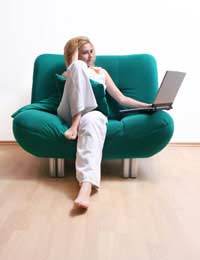 Though there are no clear-cut rules governing how often you should work on your creative writing pieces, you may want to consider carving out a certain amount of time each day or week to devote to your hobby. Not only will doing so give you the experience you'll need to become a more proficient author, it will also help you capture all those innovative ideas which have a nasty habit of flying away almost as quickly as they pop into your head.
Below, we'll examine some writing regimen possibilities. Find the one that best suits your needs and aspirations and start putting your thoughts to paper!
The Once a Day Writer
Are you the type of person who finds writing to be a therapeutic, relaxing and/or energising act? If so, you may want to strive to write for at least 10-15 minutes each day. After doing this religiously for about three weeks, it will become a natural part of your routine. Many creative writers enjoy spending time at their computers or with their notebooks either before the rest of their family awakens in the morning or after everyone has gone to bed at night. Alternatively, you might prefer to write during your lunch break or even during the middle of the afternoon.
The "Every Few Days" Writer
If your schedule is usually far too hectic to enable you to write every day, but you want to make sure you don't go longer than three or four without writing, you may have to schedule an "appointment" in your calendar. Allow yourself to go a maximum of 48 or 72 hours between writing stints and try to make the most of your valuable writing time by ensuring that you write in a place that inspires you (such as a quiet bedroom or a busy park.)
The Once a Week Writer
Some creative writers like to set aside one day a week to spend a substantial amount of time writing. However, to maximise this weekly event, you may want to keep a notebook with you so you can jot down thoughts as they occur to you during the days you won't be actually writing. Then, you can refer to those notes and inspirations when you actually have the opportunity to work on your writing.
The "Every So Often" Writer
Finally, you may be the type of creative writer who prefers to have no set time period in which to write; instead, you prefer to allow the mood to dictate when you'll put fingers to keyboard or pen to paper. Though it will take you longer to improve or to actively explore a specific writing style or genre this way, it's still valuable as a mental boost. One caveat, though - if you plan on trying to establish yourself as a professional creative writer, you may need to change your writing approach to a more scheduled one. Otherwise, it may be impossible for you to regularly meet deadlines and exceed editors' expectations.
No matter when you choose to write, it's critical that you make sure of at least one thing -you're having a good time and learning from your experiences.
You might also like...