Getting Feedback on Your Writing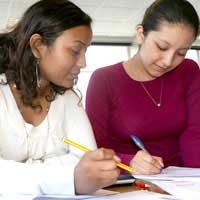 If you're serious about becoming a published creative writer (even if you don't have aspirations of making a huge paycheque or living off sizeable book or screenplay residuals) you'll need to actively seek out feedback on your works.
Without commentary from your readers it will be difficult for you to improve your writing. Though you can certainly accomplish a good bit of writing development through editing and rewriting your pieces, there's nothing like taking in some constructive criticism to motivate and educate you.
But before you step into the proverbial "limelight" and begin receiving creative writing reviews, it's important to remind yourself of a few fast feedback facts:
Not everyone will be kind.

This isn't to say that you must expect to receive horrible comments on your creative writing; quite the contrary, most people will at least be cheerful even if your piece doesn't resonate with them. However, it's unrealistic to imagine that you'll never get a negative review. Inevitably, someone who reads your writing will be unmoved, offended, or perhaps even taken aback. Consequently, make sure that when you ask for feedback, you can handle blunt disapproval.

Friends and family members will occasionally fib.

Obviously, you'll first want to peddle your creative writings to those you know best – your relatives, acquaintances, neighbours, teachers and perhaps even co-workers. After all, they may have been your sources of inspiration and motivation… so why wouldn't you want them to comment upon your writings? Still, you need to be aware that because they are so fond of you, they might not give you brutally honest feedback. Nevertheless, they are a resource and shouldn't be overlooked simply because they have a tendency to "sugar coat" their unenthusiastic reactions.

Blogs are good feedback generators, but your work has to be seen to be reviewed.

There are thousands of bloggers on the World Wide Web; this means that the chances of someone stumbling upon yours and having the time to read then provide commentary on your creative writings are low. If you want your blog to become an opportunity to receive international feedback, you may want to join a virtual "circle" of writers. That way, you can all regularly visit one another's blogs and comment on any pieces published there.

Editors' time is precious.

Unless you have an exceptional relationship with an editor or agent, it's best not to pick up the phone to ask, "Why was my creative writing rejected?" or "How can I make this piece work for your publication?" If you get a standard "thanks, but no thanks" rejection letter via the mail in response to one of your submissions, you probably won't get far if you ask for feedback (and you may actually burn a bridge by seeming unprofessional.) However, if you are lucky enough to get a personal rejection via email (or, better yet, a telephone call), you may spot an opening to ask for very specific feedback on your poem, script, or novel.

Feedback is subjective.

Finally, always remember that all feedback is based on the reader's personal experiences, temperament and innate likes and dislikes. Even the most established creative writing critic cannot be 100% objective, because writing is "art" and art is often controversial. This means that if you honestly believe that something you've written has been panned for the wrong reasons, there's nothing inappropriate with sticking by your ideas. After all, reviewers have been off-the-mark before and will be again. Accept everything you hear in terms of feedback, but never let it stop you from writing what's inside your head, heart and soul.

You might also like...