How Can I Market a Print On Demand Book?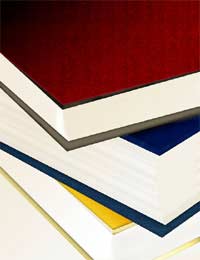 So… you're ready to make the leap into the world of print-on-demand (POD) publishing? Be assured that you're not alone. POD is a trend that many writers – both novice and professional – are exploring, and it can be a source of income. However, you first have to learn how to market your POD book because unless you're paying a third party to market and advertise it for you, it's doubtful that many people are just going to randomly "stumble" across it.
To help you in your POD journey, we've assembled some traditional and not-so-ordinary ways to get your print-on-demand book into the hands of consumers. Try one or try all – just make sure you try something, as the sales of your work are truly dependant upon your marketing approaches.
Go First for Your "Low-Hanging Fruit"
In the sales world, "low hanging fruit" is a term often used. If you're not familiar with it, here's a great way to understand the principle: Picture an apple tree – if you were hungry, wouldn't you pluck the lower apples first? Selling your POD is similar. If you want to sell your book, why not approach the most likely prospects (aka, the "low-hanging fruit") first?
Not sure who those persons could be? Try your friends, family members, colleagues, associates, acquaintances, neighbours, blogging mates or fellow authors. Many times, these people will help support you by buying your work for themselves or others.
Sell Copies of Your POD Book at Events
Because POD books are printed as needed, you can order as many or as few as you'd like. For instance, you may want to purchase a small store of books, perhaps 25-50, to sell at pertinent events or even in retail stores.
You may have to get creative in order to allow certain venues to let you sell there. Try giving a percentage of all books sales to a local nonprofit group. (That way, they can sell your POD books as a fundraiser.) Though you will receive less profit per book, you'll know that your book is still making its way into the marketplace.
Offer Your POD Book on Your Blog or Website
Do you have a blog? A website? Do you Twitter? Are you on LinkedIn or Facebook? If not, you should take advantage of these free opportunities to position yourself as both a writer and an expert in whatever your book's topic may be.
Once you have achieved a following via your Internet-based social networking site, you have a good chance of being able to sell to people around the world. Just make sure you have a button or link to your POD book for easy ordering. (Or, if you're distributing your book yourself from a home or home office, you can always set up a button for orders via a secure online merchant such as PayPal.)
Have a Book Signing
If your POD book is particularly topical or you feel that it warrants a book signing, why not arrange one at a local shop? You could choose any venue you'd like; for example, many libraries will arrange book signings, as will smaller book dealers.
Should you go this route, you'll need to publicise your upcoming book signing by sending out press releases to your paper(s) (if applicable) and creating flyers. Don't expect to get tons of individuals, though; books signings for relatively unknown authors may pull in only a handful of people. Still, this is a great way to get your name out and start solidifying yourself as a published writer.
Just remember that your POD book isn't going to sell itself. It needs your help… and that means stepping outside of your comfort zone and putting on a marketing hat! You can do it…!
You might also like...