How to Keep Track of Your Progress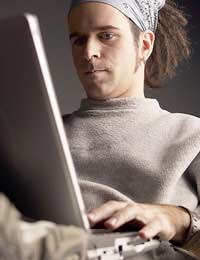 As a creative writer it's important to continuously grow and improve. However, because your progress will undoubtedly be measured in "baby steps", you may not realise at first how far you've come. That's why it's important to deliberately and systematically track your progress as an author, allowing you to determine which areas you've significantly improved and which you still need to hone.
Interestingly enough, tracking their progress isn't something most writers do automatically, as they are too busy writing right now to consider re-reading their former poems, stories or plays. Consequently, many of them only realise long after they've begun writing in earnest that they could learn something from their past works.
There are a number of ways to track your progress, including the four methods below. Feel free to use them… and to develop your own techniques to help you become more proficient and confident, bit by bit.
Create a Portfolio
Professional models develop portfolios to highlight their experiences. Such files include examples of their works, as well as their versatility. You can use a portfolio as a creative writer, too.
In a three-ring binder, begin collecting and compiling your published (and unpublished) works. Eventually, you'll have enough creative pieces in your "writing portfolio" to begin comparing and contrasting, noting your "earlier" tendencies as opposed to the ones toward which you currently lean. This type of visual aid will assist you in determining what areas you've consciously or subconsciously improved and which you still need to improve upon.
Keep a "Lessons Learned" Log
Start a computer file or a pen-and-paper journal of your biggest "lessons learned" as a creative writer, regularly adding to your notes. As you make mistakes or recognise trouble spots, jot them down in detail, including exactly how you would remedy the situation in the future.
Eventually, you'll find yourself turning to this logbook to remind yourself of the best practices when it comes to creative writing. And who knows… you may someday use your personal "lessons learned" to help others while working as an editor, writing instructor, or creative blogger!
Rewrite Your Older Works Periodically
There is no "one" way to tell a story; thus, even the best tale can benefit from some occasional updating and sprucing.
Take one of your favourite creative writing pieces and pledge to rework it every six months or so. This activity will allow you to implement new skills you've learned, thereby tightening your prose and potentially "rounding out" your plot or characters. Eventually, you'll have many copies of the same story, and the first and last version will likely be quite different.
Chart Your Rejections and Acceptances
Finally, if you're a brave soul and you've attempted to sell your creative writings to agents, publications, or other venues, you will undoubtedly receive many rejection and acceptance letters and emails. Rather than papering your office with these documents (or unceremoniously chucking them into the bin), date them and put them in a folder or binder.
The purpose of keeping such records is to show you the percentages of acceptances versus rejections over a period of time. You'll soon learn what types of publications to avoid querying based on your creative work types and which are perfect for your writing style. You will also be able to see at a glance how aggressive you've been at getting your pieces seen in public forums.
One note, though – don't allow the rejections to get you down. They are just a part of the process… and without them, you couldn't be making progress! So embrace every experience along the way!
You might also like...