How to Proofread Your Writing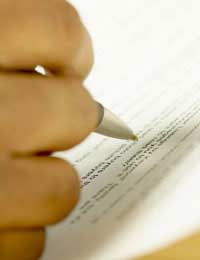 Becoming a well-respected creative writer takes time and devotion. It also requires you to tackle some of the more mundane aspects of being an author including learning how to systematically and efficiently proofread your writings.
Here, we'll examine a few areas upon which you should focus, before delivering your work to a potential client or posting it on your personal website or blog for commentary.
Spelling
Where would the world be without Spell-check? It's one of the most widely used software tools, and it definitely helps authors catch a large proportion of their misspelled words. However, it's hardly a foolproof system.
Take, for instance, words such as "wear" and "where". You may accidentally insert one instead of the other, and Spell-check won't realise that the context in which you're using the word is inappropriate.
Another duo notorious for being interchanged is "your" and "you're". Again, Spell-check won't be on the lookout for relative appropriateness; therefore, you must use your eyes to proofread after allowing Spell-check to initially sweep your document.
Syntax
"As a freelance writer, the type of jobs I look for are creatively-driven and high paying."
What's wrong with this sentence? It may seem to make sense, and your reader will no doubt understand exactly what you're trying to say. However, the phrase doesn't follow the basic rules of agreement.
Instead, the above sentence should read:
"As a freelance writer, I look for jobs that are creatively-driven and high paying."
Watch out for these subtle types of syntax errors (often caused because they mimic the way we colloquially communicate), as they are easy to make, even if you're a natural grammarian.
Redundancy
It sounds so poetic – "crystal clear clarity." But aren't "clear" and "clarity" basically the same?
Throughout your piece of writing, whether it be a short story, novella, or poem, be attuned to spots like this where redundancy rears its head. Even if the flow is exquisite, superfluous words and phrases can be huge detractors.
Punctuation
Nothing shouts "Unprofessional!" like poor use of punctuation. Misuse of apostrophes and "comma happy" sentences tell publishers, agents, and editors that you may not be up to par.
If you're unsure of how to properly punctuate a sentence, ask for help from another person; educate yourself about punctuation online or in a book devoted to grammar; or (and this is the easiest method of all) simply rewrite and simplify the text.
Wrong Words
We've all done it. You know the word you want to use, but you inadvertently insert another. Instead of "porcine", you write "ovine". Rather than "contemplative", you say "contemporary." These are easy mistakes to make, but you'll need to correct them before your proofreading is complete.
These types of errors are often difficult to instantly spot, especially since you are using real words that may seem to make sense if you're merely skimming a sentence or paragraph.
In order to clear your mind so you can uncover these incorrect words, try proofing your works backwards. Start at the end and work your way to the beginning of the document. Though this process takes some time (until you become accustomed to it), you'll be more likely to catch these blunders.
Is proofreading fun? Not necessarily. Is the process easy? Nope. But if you want to increase your chances of getting work, it's essential.
You might also like...