Encouraging Your Child to Write Creatively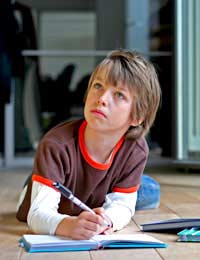 It's been noted before, but it's worth repeating - no one is more creative than children. They can turn a fallen leaf into a pirate ship, a concrete pavement into a decorative canvas, or a small dirt mound into a battlefield.
If you're the parent, grandparent, babysitter, educator, or guardian of a youngster, you can help the child in your life harness his or her instinctive originality by encouraging the practice of creative writing. Here, we'll explore some clever ways to make memories and celebrate the innate creativity of youth.
Write a Story Together
Even if the boy or girl in your life is too young to write on his or her own, you can still put a story together.
First, you'll need to develop a concept. Ask your little one what he or she would like to write about. Chances are the child will choose something which interests him or her, such as cars, animals, or favorite toys. Discuss what happens during the story, but try not to interject your own sense of what's "reasonable". For instance, if Tommy says, "The dog flies over the house!", resist the temptation to respond by saying, "Tommy… dogs can't fly!" Instead, write down whatever Tommy says happens.
After your story is finished (and it'll probably be short; kids have micro-sized attention spans), you can use construction or regular paper to create a small "book" (staple or clip the pages together.) After your story has been penned onto the pages, encourage your child to illustrate the story. As a result, you'll have a terrific visual memory of a fun experience; plus, you will have helped your child explore his or her imagination.
Make Up a Song
It's tough to find a youngster who doesn't enjoy music, so why not write a song with your little boy or girl? It doesn't have to be long or involved, but it should come from your child's active imagination.
Urge your child to sing about an everyday object, such as a chair or a tree. Make sure you write down your child's lyrics so you can remember and sing it for others (or hum it just between the two of you) later.
Again, the point of this exercise isn't to write the next big musical hit; it's to broaden both your and your child's sense of creativity. It can also be an excellent way for you to teach your youngster how to rhyme or verbally describe objects, feelings and events.
Create a Poem
Speaking of rhyming, children are natural at putting together words which sound alike, especially when the kids are just beginning to talk. Truly, boys and girls love the amusing quality of rhymes (hence the popularity of Humpty Dumpty and Jack and Jill) and they have a tendency to more easily remember items when they are written in a rhyming format.
Jointly, you can write a simple (or if your child is older, a more complex) poem. As mentioned previously, it's easy for kids to write about what they know, such as animals, people in their lives, school, or the park. And don't be surprised if your child comes up with some amazing observations or incredibly mature insights about nature or relationships; often, kids see the world more clearly than adults. Expect to learn something yourself from this fun activity.
By using creative writing to play with your youngster, you'll be doing you both a huge favour. First, you'll be instilling a love of the written word in your child. Secondly, you'll be dusting off your own childlike imagination, buried under years of adult expectations. Finally, you will be spending important, fun moments together, something beneficial for both of your souls.
You might also like...