Creative Writing Can Help Kids at School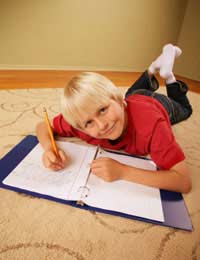 Bullying. Peer pressure. Academic expectations. Let's face it… school isn't easy for kids especially in our hectic global society. But as a parent, guardian, or babysitter of a tot, you can instill in him or her a strong, lifelong sense of achievement (and priceless boost of self-esteem) by way of an informal introduction to the world of creative writing.
Being able to express oneself through the written word is incredibly powerful; consequently, children who have mastered the art and science of writing typically excel at school both educationally and socially.
Below, we'll look at a few of the countless ways you can help the youngster in your sphere of influence by encouraging him or her to write (with or without your guidance.)
Journals and Diaries
If your child is old enough to jot down a few thoughts, take him or her to a stationary shop to pick out a special journal or diary. Explain that this will be a private place to write down everything and anything that's occurring, from a list of what was eaten during breakfast to a rant about a best friend's betrayal of confidence.
Being able to have a special, very personal outlet in which to work out emotional ups and downs (or just the mundane realities of day-to-day childhood occurrences) could help a struggling young person express perplexing feelings of fear, determination, and happiness in a safe, productive way.
Poetry
We all want to believe our children will remain innocent forever, but at some point, they will wind up struggling with grown-up emotions. This process usually occurs in school, mainly because that is where they learn their "places" among peers. Though they might not understand exactly why they are feeling certain emotions, they know that their moods are real.Poetry can help even little ones to explore those strange, puzzling feelings in a fun way. It can also bring out their humorous sides, thoughtful natures, and everyday ponderings.
Expect to be startled when your four-year-old explains death with the clarity and wisdom of a sage in a simple, five-line poem. Truly, you may never look at a simple experience like taking a walk in the park the same way again.
Short Stories
Even if your youngster is of preschool age, he or she can learn the basics of writing creative stories. Though plots and characters will likely be of a straightforward nature, that fact will not take away from the pieces' originality.Have your child dictate a short story to you and ask him or her to illustrate the piece. Or, if you happen to be artistic and your youngster can print, why not draw pictures to accompany a work he or she has composed?
Such literary activity will help a child tremendously, and you'll gain valuable insight into how he or she is feeling; often, parents and guardians are amazed when they realise their kids are actually capable of experiencing intense emotions such as compassion, love, loss, and guilt. And if you realise that your child is having such internal turmoil, you can take steps to help him or her work through complex feelings.
By starting the young person in your life to embrace the written word, you'll be giving him or her a valuable resource which can be used forever. School will be easier as a result of the increase in confidence, and your child will always have a positive outlet to turn to during difficult moments. Best of all, you'll have something in common that you can discuss, an invaluable pleasure you're both certain to enjoy for years to come.
You might also like...
These are all good for young kids, although the short stories will tend to be very short indeed. For teens, writing can be a great outlet for emotions- it's why poetry is so common among adolescents. It gives them a way to explore all the conflicting feelings they're experiencing, and for that it's valuable, although generally they won't share it with parents or teachers.
dad
- 27-Sep-12 @ 1:07 PM