Help Your Child Write a Book or Poem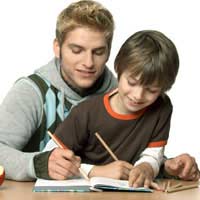 Often, one of the best ways for a writer to become more proficient is to help others with their writing, and that includes assisting children in their first creative writing ventures.
Kids have natural inventive tendencies, but may lack the language skills, discipline, or understanding to write a concise short story or poem. That's where you can come into the picture as a mentor and teacher. By assisting a youngster in penning an innovative work, you'll actually be helping yourself to become a better writer.
Here's why this method of helping others write creatively actually translates to helping yourself:
Children are Curious
The old adage claims that cats have a tremendous amount of curiosity, but apparently that author never observed a child! Truly, young folks have an overwhelming amount of imagination, able to turn sofa pillows into fortresses and dirt mounds into airport landing sites at whim.
When you assist a curious youngster in putting his or her creative works to paper (or computer screen), you'll be getting a valuable insight into his or her uncluttered, pure mind. In turn, that will enable you to free up some of the adult worries that might be barring you from writing at your zenith.
Writing Produces a Self-Esteem Boost
As you've probably already discovered, being able to put your thoughts into a readable format to educate and/or entertain others can result in a burst of pride. The same happens for children, who are amazed that not only can you help them capture their ramblings, but other people will be able to enjoy their words and images, too.
Additionally, a funny thing will occur as you play the part of the "Scribner" in this process… you will actually feel a heightened sense of self-worth, too. There's nothing like making someone else smile to give you little confidence lift.
Books and Poems Make Great Memorabilia Items
When you and the child (or children) in your life write down their thoughts, poems, and imaginative tales, those experiences and ideas will be captured for future generations to read. Even if their poetry is simple - The bird is black… Will he come back? - both you and the little author will fondly remember the experience of creatively writing together.
In addition, stories written by kids make terrific additions to baby books or nostalgic gifts to be given to family members.
Writing Together Forms a Special Bond
Because you'll have to spend a significant amount of time with your youngster in order to put his or her thoughts into a clear and understandable format, you and your child's creative writing moments will turn into special times. Consequently, you'll become closer by blocking out the worries of the outside world and focusing on something much more enjoyable.
Sequester yourselves in a bedroom or head to the park to ensure that you can write uninterrupted. At first, the experience may seem a little strange, but soon it will be something you both can't wait to do.
The most amazing aspect of helping the child in your life write a creative short story, poem, play, or song is that in doing so, you'll become a better and more innovative writer yourself. Now get out there and start inventing new worlds with your little one!
You might also like...