Use Writing to Help Kids Discipline and Self-Esteem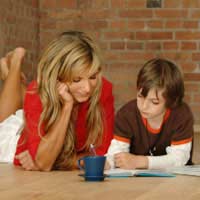 The media has spent a great deal of time focusing on today's youngsters' apparent lack of self-worth. Copious essays and editorials have been devoted to the topic with each author putting his or her spin on why children seem to struggle with their images or worth.
But no matter if the cause stems from the pressure to succeed at an incredibly early age (many pre-schoolers are being "groomed" for the "right" university); the changing face of modern families where hustle and bustle is expected; or the influence of shocking news images and violent video games, the fact remains clear – kids need (and probably have always needed) the adults in their lives to help them define who they are and where they are going.
As a creative writer and the parent, guardian, relative, or friend of a child, you have the power to make a lasting difference in a young person by introducing him or her to the art and power of the written word. If you're sceptical of this fact, think about how being able to communicate through writing has helped to shape your own world; chances are, your ability to write has had a strong influence on how you see yourself. So why not share that positive experience with someone who needs a boost of faith in him- or herself?
To begin informally "tutoring" a child, it's critical that he or she be interested in pursuing writing of some kind; otherwise the youngster will be unable to enjoy the benefits of writing.
It's "Cool" to Write
Tragically, many kids find it "uncool" to write. Fortunately, they often change their tunes once they realise that creative writers have a plethora of unusual, enjoyable opportunities available to them, including as lyricists, cartoonists, screenwriters, marketing material developers, greeting card writers, storytellers, playwrights, and even paid bloggers. Thus, you'll need to educate your youngster on this exciting, ever-changing field. (Of course, you may have a budding Hemingway or Shakespeare on your hands, in which case you won't have to assert yourself much to get his or her attention!)
Next, try weaving writing into your everyday experiences with your child. For instance, if you're both interested in the music scene, you could work on composing a song together about some shared occurrence. Or you and your youngster might try researching and writing a detailed family history that could be self-published and given as gifts.
Be creative (after all, you're a creative author!) and remember that the projects you choose can be as simple as writing three line comedic haikus to entertain family members or friends, or complicated enough to take many months to finish.
Don't Give Up
Ultimately, don't give up. If your first attempt to interest your child in writing isn't a rip-roaring success, never fear. It often takes a while before kids accept that an adult can be "right" about something. In fact, the youngster you're helping may actually enjoy learning more about writing, but is hesitant to show his or her interest. Just keep trying and don't allow one stalled attempt to sway you.
At this point, you may be wondering, "How will this help my child's sagging self-esteem or self-discipline issues?" Though writing isn't a cure-all, it usually does have a significant, positive impact on the child who seems to be "lost." Once he or she harnesses the strength of being able to write about ideas, concepts, emotions, relationships, events, et cetera, there will be an immediate feeling of control. And, sometimes, personal journals can be akin to a supportive best friend for the young man or woman who cannot find another outlet to voice his or her opinions and desires.
From the standpoint of writing having an effect on your kid's discipline, think about how your own writing has affected your willpower. To become better at the craft, you must concentrate on deliberately learning more to constantly strive to reach your personal best. Like an athlete, the writer needs to stay focused; hence, any child who chooses to engage in the art of penning creative works is likely to exhibit an increasing amount of self-control.
It will take some time on your part, especially if the child is reluctant to proceed with literary pursuits at first, but your investment in someone who needs a boost of self-assurance will bear fruit for many, many years. And what better way to use your own gift than to help a child blossom into a secure, well-rounded, confident adult?
You might also like...